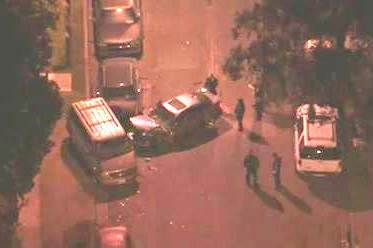 A male pedestrian was fatally struck by a vehicle Thursday night at about 7:36 p.m., at the 1800 block of Cedar Street in Santa Ana, according to ABC News.
The victim died at a hospital as a result of the injuries that occurred when he was hit by a vehicle.
The driver of the vehicle in question stayed at the scene.
The SAPD reported that they had received calls about speeding vehicles in the area before the crash. The incident is now being investigated as possible street racing.
Apparently no one in the vehicle was hurt in the crash.
Aerial surveillance by AIR7HD showed what looked like skid marks on the street near the scene and a vehicle that seemed to have crashed into two parked vehicles.