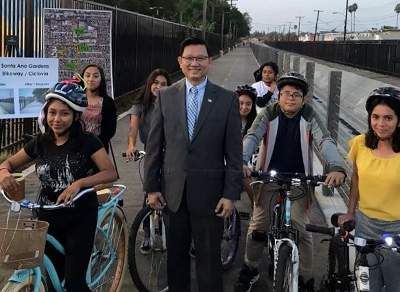 Orange County Supervisor Andrew Do unveiled the new LED/solar powered lights along the Santa Ana Gardens Bikeway, next to Jerome Park, on Tuesday evening, Oct. 23.
This project made the area traversable by foot or by bicycle. This area used to be unpaved and was locked to the public. Now one can see entire families biking along the trail.
This bikeway opened two years ago, along Jerome Park and connecting McFadden and Monte Vista. The bikeway allows a safe way for children and families to go to and from school and park; while also promoting active lifestyles for people to walk and bike.
The new lights enhance the safety of the bikeway for everyone. They have mini solar panels on them that keep the lights lit during the day.
Supervisor Do also previewed where we would like to continue the bikeway to connect – all the way to First Street. He is working on securing funding for the next phase of this project.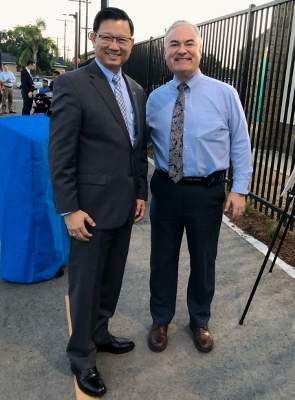 Those who attended the unveiling event included Art Pedroza, who serves as Do's appointment to the O.C. Emergency Medical Care Commission and is running for the SAUSD School Board, and Irma Macias, a Santa Ana Parks and Rec Commissioner who is running for Ward 2 on the Santa Ana City Council.