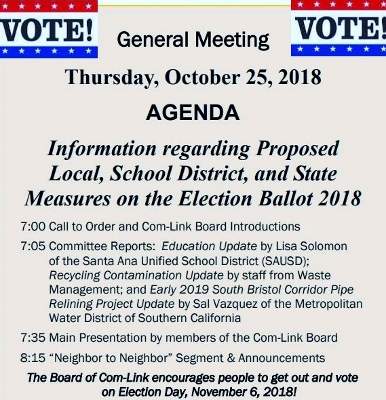 Notice Regarding Santa Ana Communication Linkage (Com-Link) Forum General Meeting – October 25, 2018
This is a reminder of the Santa Ana Communication Linkage (Com-Link) Forum, serving Santa Ana's neighborhood associations and the greater community, will hold their General Meeting on Thursday, October 25, 2018 at 7 PM in the Santa Ana Police Department Community Room – 60 Civic Center Plaza, Santa Ana. Parking validation will be provided.
The following topics will be discussed:
Committee Reports: Education Update by Lisa Solomon of the Santa Ana Unified School District (SAUSD);
Recycling Contamination Update by staff from Waste Management; and
Early 2019 South Bristol Corridor Pipe Relining Project Update by Sal Vazquez of the Metropolitan Water District of Southern California
Information presented by members of the Com-Link Board on Proposed Local, School District, and State Measures on the Election Ballot 2018
"Neighbor to Neighbor" Segment & Announcements
The Board of Com-Link encourages people to get out and vote on Election Day, November 6, 2018!