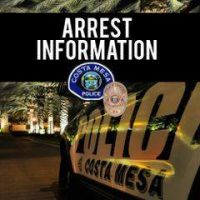 Costa Mesa Police Department
Advisory: Attempted murder suspect arrested for stabbing man multiple times near Fairview Park
ATTEMPTED MURDER SUSPECT ARRESTED FOR STABBING MAN MULTIPLE TIMES NEAR FAIRVIEW PARK
Victim: Male, 41, Costa Mesa
COSTA MESA, Calif. – The Costa Mesa Police Department (CMPD) arrested Gavin Christopherflo Delgardo, Jr., 19, Costa Mesa, yesterday for repeatedly stabbing a man, who was out for a walk, near Fairview Park.
On Aug. 16, 2018, at 8:54 p.m., officers responded to the intersection of Placentia Avenue and Fairview Park regarding a male lying in the roadway of southbound Placentia Avenue. The man was bleeding profusely from numerous stab and slash wounds to his torso. He had been out for a walk and was assaulted by an unknown suspect. The victim was transported to a nearby hospital in critical condition, and he is now stable and recovering from his wounds.
CMPD detectives responded to the scene and began their investigation. They determined the attempted murder had occurred near Goat Hill Junction in Fairview Park, east of the location, at 2480 Placentia Avenue. Further investigative efforts led to the identification of the suspect, Delgardo.
Yesterday, Aug. 17, 2018, at 6:35 p.m., detectives located and arrested the suspect in Costa Mesa without incident. He was booked at CMPD Jail for attempted murder. His bail amount has been set at $500,000, and he is scheduled to be transferred to the Orange County Jail. Incident/DR#: 18-011299.
The investigation is ongoing and anyone with additional information regarding this incident is encouraged to call CMPD Detective Maridakis at 714-754-5051.
The booking photo will not be released at this time.