Inside sources are reporting that outgoing SAUSD Superintendent Thelma Melendez de Santa Ana, who is retiring after the school year, is pushing the SAUSD School Board to hire a controversial guy named Edmond Heatley.
Heatley is a retired U.S. Marine Corp Master Sgt. who, when he was serving as the Superintendent in the Chino Valley Unified School District, wrote a memo in 2008, urging Chino Valley's Board of Education to approve a resolution in support of Proposition 8, the measure to prohibit marriage equality in California, according to Berkeleyside.
When Heatley was at Chino Valley, he convinced their School Board to close three schools.  However one of the School Board members later reported that Heatley actually closed the schools because they were listed as Program Improvement schools:
When the school board approved the closure of Gird, El Rancho and Los Serranos, the board was oblivious to the true reason behind the superintendent's recommendation. It was not savings vs. cost but to improve Heatley's chances to leave CVUSD. Heatley wanted three fewer PI schools on his resume. Three PI schools were eliminated but the English-learner students are our children, and they remained.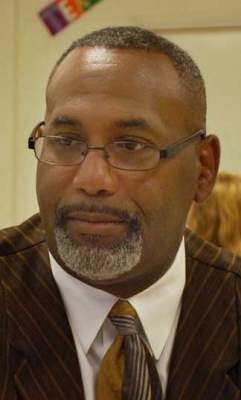 Heatley is a graduate of  The Broad Superintendent's Academy, a program designed to take people who may not have education backgrounds and train them to lead "large urban school districts, state departments of education and high-growth public charter systems."
Critics accuse the Broad Superintendent Academy of promoting "anti-union, pro-charter school policies", and aiming to "transform public education into the free-market model and travesty of corporate America."
In April of this year Heatley's son, Anthony, 18, got busted for bringing a knife to school, in Georgia, just a few weeks from graduation. Anthony attends Jonesboro High School, according to WSBTV News.
Heatley resigned as Superintendent of the Clayton County Public Schools, in Georgia, in August of 2012. Over his three-year tenure, Heatley — an ex-Marine drill sergeant — was often criticized for his tough management style. He was also heavily criticized for his annual handling of budget cuts, which always turned into months-long fights with the school board over proposed cuts such as eliminating employee benefits for bus drivers, shortening school weeks and doing away with arts programs, according to the Clayton News-Daily, which also reported that:
He also had a sometimes tenuous relationship with the media. It culminated in a May 2011 press conference where he blasted reporters for investigating rumors he was having an affair with an employee in the school system's central office.

Heatley ran afoul of parents in July 2010, when he announced bus service was being cut to 4,600 students only a week before the school year began. He landed in hot water with parents again in July of this year when he announced a controversial shortened school day plan — less than a month before the current school year began — without first seeking public input.
No matter how you slice it, picking Heatley to become the next SAUSD Superintendent seems like a very questionable move.