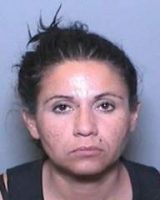 Santa Ana Police Department
Advisory: SAPD Detectives Request Assistance In Locating Armed and Dangerous Suspect For Kidnapping/Robbery/Carjacking
On 6/10/2017, Suspects Pedro Vazquez Espinoza and Graciela Campos (currently in custody for this crime) committed an armed kidnap for robbery. Both suspects ordered the victim to drive them to Anaheim, where they then carjacked her vehicle and fled.
Campos was later arrested in the victim's vehicle with one of the two firearms used in the original crime. Suspect Vazquez Espinoza is believed to still be armed and dangerous. There is currently a $200,000.00 warrant out for his arrest in this case.
Anyone with information as to suspect Pedro Vazquez Espinoza is asked to contact Santa Ana Police Department Robbery Detective Cpl. A. Silva at (714) 245-8545, email asilva@santa-ana.org or Orange County Crime Stoppers at 1-855-TIP-OCCS.
Wanted Suspect: Pedro Vazquez Espinoza (27) Santa Ana
Description: Male, Hispanic, 6'02, 210Lbs, brown hair, brown eyes.
Suspect In Custody: Graciela Campos (33) Santa Ana
Location: 1427 E. 1st Street and 1634 W. Pine