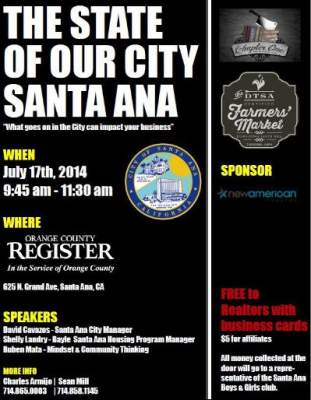 A "State of the City" presentation for Realtors, local business owners and residents is set for July 17, 2014, at 9:45am at the Orange County Register, located at 625 N. Grand Ave., in Santa Ana.
Speakers include Santa Ana City Manager, David Cavazos, Shelly Landry-Bayle, the Santa Ana Housing & Neighborhood Development Manager and Ruben Mata of Mindset and Community Thinking.
Here's what to do if you are involved in a car accident. If you or someone you know has been in an accident contact Sasooness Law Group, APC
Office: 818-922-7700 Cell: 714-912-2520 (text or call) Email: mroyer@saslg.com www.saslawgroup.com
Realtors can get in for free with a business card.  The cost for others is only $5.  All money collected at the door will be donated to the Santa Ana Boys and Girls Club.
For more information contact Charles Armijo at 714-865-0003 or Sean Mill at 714-858-1145.
Program sponsors include the Orange County Register, Chapter One: the Modern Local and the DTSA Farmers' Market as well as New American Funding.