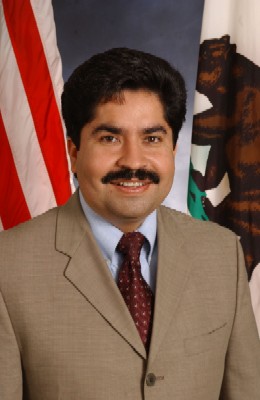 For Immediate Release, March 9, 2010
For More Information Contact: Carol Chamberlain – Office: (916) 319-2069, Cell: (916) 804-5355
Governor Signs Bill to Clear the Way for OCTA Shovel-Ready Projects
Solorio-Backed Bill Creates 6,000 New Orange County Transportation Jobs
SACRAMENTO, CA – Yesterday, Governor Schwarzenegger signed Solorio-sponsored legislation (AB 11 X8) allowing the California Transportation Commission to sign agreements with local transportation agencies to advance projects using local funds.
"The Governor understands that nothing should delay funding for transportation projects ready and waiting to get started," Assemblyman Solorio says. "We appreciate the Governor's swift action to fast-track this legislation."
The State's current inability to sell bonds has delayed construction of several Orange County Transportation Authority (OCTA) "shovel-ready" transportation projects. While OCTA has local funding to advance these projects, California law prevented them from proceeding without the State committing to pay its share. Now, if OCTA wishes to front the funding, the California Transportation Commission will have legal authority to issue a "letter of no prejudice," which will allow OCTA to be eligible for reimbursement later, once bonds are sold.
The California Building and Construction Trades Council was in support of the legislation, as a high percentage of building trades workers have been idle due to the Great Recession. The bold action taken by the Legislature and the Governor sets in place a pathway to create much needed jobs, including 6,000 transporation jobs in just Orange County.
California voters approved Proposition 116 in 1990, which authorized $1.99 billion in bond funding for public transit infrastructure. In Orange County, projects totaling $410 million have cleared their environmental phase and are pending allocation of that funding. These projects can now begin construction this year.
In February 2009, the City of Irvine partnered with OCTA to reallocate its $121.3 million in unused Proposition 116 funding to intercity/commuter rail projects in Orange County. The chart below highlights the eligible projects and the number of jobs that they will create.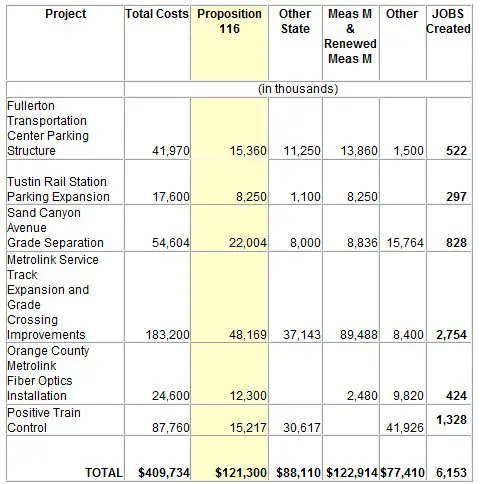 State Assemblyman Jose Solorio is the Chair of the Assembly Insurance Committee and serves on the Assembly Education, Transportation, and Appropriations committees. He represents the Sixty-Ninth Assembly District, which includes the cities of Anaheim, Garden Grove, and Santa Ana. For more information about Assemblyman Solorio, visit www.assembly.ca.gov/solorio.
________________________________________
Capitol Office: State Capitol, P.O. Box 942849 • Sacramento, CA 94249-0069
Phone: (916) 319-2069 • Fax:(916) 319-2169
District Office: 2400 East Katella Avenue, Suite 640 • Anaheim, CA 92806
Phone: (714) 939-8469 • Fax:(714) 939-8986
E-Mail: Assemblymember.Solorio@assembly.ca.gov
Web Site: www.assembly.ca.gov/solorio