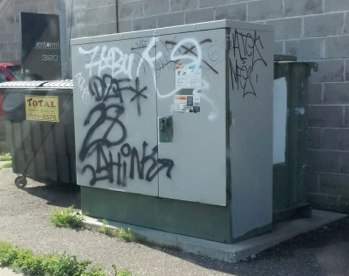 The Santa Ana City Council is offering artists the opportunity to beautify SanTana's plain ol' dumpy utility boxes with their own original artwork with the Utility Box Art Project. UBAP is just one of the ways the council is planning to bring in more public art to town, while at the same time engaging members of the community to participate. Artists and art groups must apply by November 6 to be considered for the opportunity, as they will be able to enjoy the neat perk of exposure, a stipend of $700 and a reimbursement of $200 for supplies, according to the OC Weekly.
Artists said that the $900 pay being offered to paint local power boxes was simply too low, according to the Voice of OC.
"We brought back the city from basically a graveyard," said artist Skeith De Wyne. "In my world, that comes down to less than what a Walmart employee makes."
Why is the City of Santa Ana spending any money at all on public art when city officials admitted at a recent public budget meeting that "the overall general-fund revenue is $1.3 million lower than the same quarter last fiscal year?"
Should our city be spending money it doesn't have to pay artists who aren't happy with what they are being offered in the first place?  And have these artists really had the impact they think they have?
I am sure that the city's gang bangers will be happy to decorate these utility boxes for free…
I also hear that the City Council is considering starting an Arts Council. Can you imagine the bloodbath that will ensue with these starving artists fighting to serve on this City Commission?