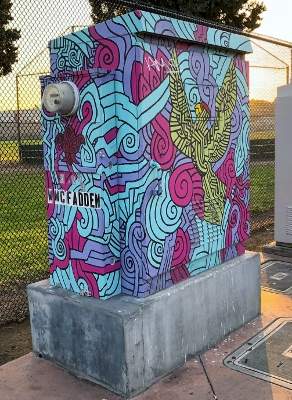 The City of Santa Ana's Arts & Culture Office, in collaboration with the Public Works Agency, is issuing a Call for Art Proposals to artists or artist teams who live, work or study in Santa Ana to create art for utility boxes.
The intent of the Utility Box Art Program is to enhance the beauty and vibrancy of the city, provide the opportunity for artists to showcase their work, and discourage vandalism on utility boxes. The design proposals will be reviewed by a panel, and the artists/artist teams selected will be awarded an all-inclusive budget of $400 to paint a utility box. The Arts & Culture Office will apply a special coating to the painted utility boxes to extend the longevity of the art.
To view the Call for Proposals (CFP) and download a design template for the submission, go to santa-ana.org/cd/arts-culture-office/utility-box-art-program-revolving-display.
Design proposals are due by Feb. 13 at 11:59 p.m. (PST) and must be submitted online at cityofsantaana.submittable.com/submit.