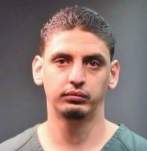 Ramiro Garcia Jr., a 23-year-old driver from Santa Ana, has been sentenced to four years in prison for a hit-and-run crash in Santa Ana that killed a pedestrian, according to the O.C. Register.
Garcia Jr. pleaded guilty on Monday to one felony count of hit-and-run with serious injury for the fatal Jan. 24 collision, according to court records.
The victim, Stephen McMahon, a 65-year-old transient, was struck by Garcia Jr.'s vehicle as he was walking across Fairview Street near Dahl Lane at about 6 p.m. according to the SAPD. Garcia Jr.'s vehicle was going south on Fairview Street at the time of the accident.
McMahon was declared dead at the accident scene. Garcia Jr. fled the scene but he was later arrested on charges including suspicion of felony hit-and-run, driving with a suspended license and a probation violation.