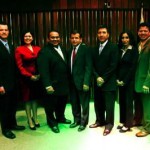 I heard today from a Santa Ana City Hall insider (yes one of my pajaritos) that the Santa Ana City Council is seriously looking at changing our City Council elections to a Ward-Specific model. Currently we elect our Council Members at large – but they have to live in a specific Ward (unless they move of course).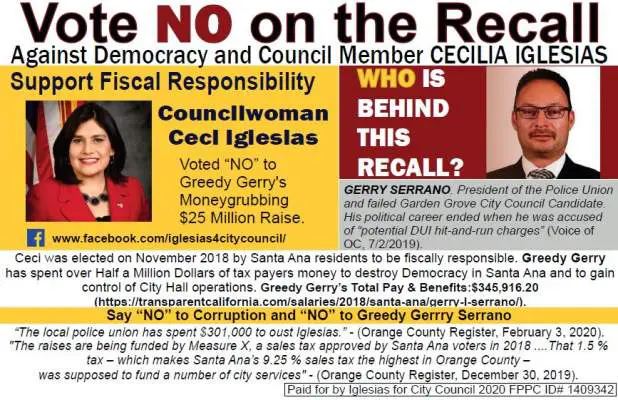 But that's not all – the City Council majority – which includes Mayor Pro Tem Michele Martinez, and Council Members David Benavides, Sal Tinajero and Vince Sarmiento, are also allegedly going to ask the voters to make them full time elected officials – with six figure salaries.
Isn't it time for Santa Ana to have a voice on the O.C. Board of Supervisors?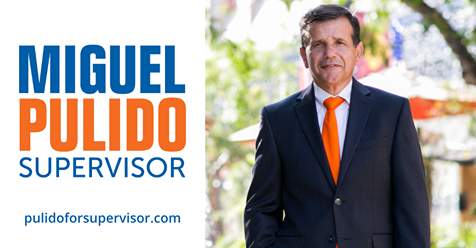 Paid for by Miguel A. Pulido for Supervisor 2020 (ID #1422663)
I would personally welcome Ward Specific elections but my tipster said that it will be very difficult to arrange equal wards – given that some wards are denser than others. That aside the other problem would be that changing our election laws would give each of our City Council members a fresh set of years – in effect nullifying their current term limits. That is no bueno! These Council Members have been on the Council for some ten years now and our City is worse than ever because of their efforts.
Advertisement
Is your employer a mess? Call Sasooness.
In the state of California for every 5 hours worked an employee must get a 30 minute, uninterrupted lunch break. For every 3 hours worked an employee must get an uninterrupted 10-minute rest break. Working over 8 hours in a day or 40 hours in a week is due overtime. Don't let your employer screw you! Give us a call at 323 746-8099.
En el estado de California por cada 5 horas de trabajo su patrón le debe permitir tener un receso de media hora sin interrupciones. Si trabaja más de 8 horas en un día o más de 40 horas de trabajo en una semana su patrón le debe pagar tiempo y medio. No deje que su patrón abuse de su trabajo. No importa que no tenga papeles. Usted tiene derechos. Llamenos al 323 746-8099.
I would be open to full time Council Members as well – but not this bunch! I wouldn't hire any of these Council Members in the current majority.
Crime has shot way up under their watch – and now the City is tittering on the edge of financial ruin because of their ill-advised Sanctuary City ordinance.
Be careful when the wolves ask the sheep for anything! This City Council majority simply cannot be trusted.