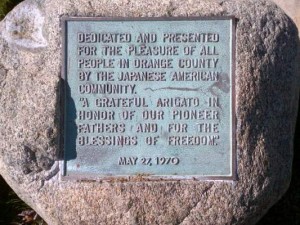 City of Santa Ana, Downtown Orange County
Community Alert: Selection Process for Public Art Sculpture to Honor the History of Local Japanese-American Farming Community Launched
SANTA ANA, CA (February 4, 2014) – A competitive grant awarded from the state to build a bike trail with landscape and hardscape improvements on the last half-mile of Flower Street in Santa Ana's southeast section has $80,000 budgeted for a sculpture. This public art will be newly created and placed on the trailhead, which unites Santa Ana's new bike trail with Costa Mesa's Bike Lane on Sunflower Avenue. The sculpture will be a memorial to the Japanese-American farming community that was very active for several generations in this section of the City. The total trail project budget, including the sculpture is $1.4M.
Arts Orange County, the non-profit organization that champions the arts and arts education throughout Orange County, is coordinating the Request for Qualification (RFQ) process from artists in the state to assist the City in the selection of an artist that will be commissioned to create this unique public art piece. The RFQ has been posted on the call for entry website, CaFÉ: www.callforentry.org. The deadline to submit application from artists is April 1, 2014.
This major piece of public art will help highlight the importance of bike trail network system that brings value to this region in the county. These efforts are in concert with the City's priority to encourage the public to stay fit, healthy, and to have fun. "Whenever significant local history and beauty intersect, great public art can be created," said Council Member Vince Sarmiento, who represents Ward 1, where the sculpture and trail will be located. This sculpture will remind the public enjoying the bike trail on the important contribution the Japanese-American farming community contributed to the history of Orange County.
The installation of the sculpture is expected in December 2014.
####