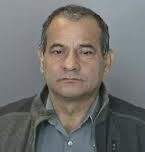 Carlos Antonio Chavez , a 59-year-old Anaheim man, was sentenced on Friday to 100 years to life in prison for molesting two cousins and the sister of one of the boys in and around a Fullerton church, according to the O.C. Register.
Chavez was convicted on Feb. 19 of three felony counts of lewd acts with a child younger than 14, after being given credit for serving 1,130 days in custody.
The Judge in the case, Gary Paer, noted Chavez' long history of sex offenses before he announced his sentence.
Chavez' past convictions:
He was convicted of molesting a girl at a McDonald's restroom in 2001 in Orange County. The victim is 21 years-old now.
Chavez attempted to solicit an undercover police officer for sex in a public restroom in 2012.
Chavez exposed himself to a "young kid" in Santiago Park in Santa Ana, in 1984.
The Judge felt his sentence would serve to keep Chavez away from children.
Chavez molested a girl and her brother at their Church, Iglesia de Dios Pentecostal. They finally told their father about this in 2014, after they had seen Chavez again at their church.
The molestations occurred between 2004 and 2007. The boy said that Chavez offered him candy and chips one day, at church, when the boy was only five years old. They then went to a nearby liquor store to get the snacks and when they returned Chavez took the boy into the bathroom and sexually assaulted him, according to the prosecutor.
As the boy told his father what happened his sister then said that Chavez had touched her too.
As police detectives conducted their investigation they found out that Chavez had also molested a relative of the boy and girl – their cousin. That victim was at first reluctant to cooperate with the police but the by changed his mind a few years later. He told investigators that Chavez molested him when he was 5 years old, at a bathroom at their church. Chavez was pretending to help the boy to get something off a high shelf when the incident happened.