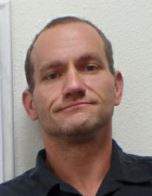 San Bernardino County Sheriff's Department Press Release
INCIDENT: Attempt Murder / Deputy Involved Shooting
LOCATION: Oasis Rd./Daisy Ln., Pinon Hills
SUSPECT: Harold Gunlogson, 43 years old, resident of Phelan
On Wednesday, October 18, 2017 at 1:42 p.m. deputies received a request from Santa Ana Police to check the area of Phelan Rd./Wash for a wanted subject, Harold Gunlogson. Gunlogson was wanted in Santa Ana for domestic violence, arson and assault with a deadly weapon and was considered armed and dangerous.
A detective conducted surveillance on the location and upon seeing Gunlogson leaving the area, the detective called for a marked unit to conduct a traffic stop. Deputies arrived and attempted a traffic stop, at which time Gunlogson fled. Deputies followed him through a rural area, driving on dirt roads through the desert. In the area of Oasis Rd./Daisy Ln. the vehicle became stuck in the sand and was disabled. Gunlogson exited the vehicle and immediately opened fire on the pursuing deputy and the deputy returned fire, striking Gunlogson.
Gunlogson was airlifted to Arrowhead Regional Medical Center where he underwent surgery.
Anyone with information regarding this investigation is urged to contact the Homicide Detail, Detective Brian Chambers at (909)387-3589. Callers wishing to remain anonymous are urged to call the We-tip Hotline at 1-800-78-CRIME (27463) or you may leave information on the We-Tip Hotline at www.wetip.com.
Refer: Detective Brian Chambers or Sergeant Jerry Davenport
Station: Sheriff's Specialized Investigations Division – Homicide Detail
Phone No. (909)387-3589
Case No. DR#071703328 H#2017-101