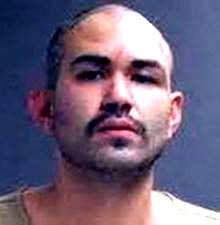 Ricardo Ray Alcala, a disgusting Santa Ana gang banger who shot and killed Edgar Sura, a 20-year-old Santa Ana phlebotomy student, on Oct. 19, 2012, laughed as his victim begged for his life – and now the cholo has paid the price as he has been sentenced to life in prison with no possibility of parole, according to the O.C. Register.
Alcala's fellow gang bangers and co-defendants, Isaac Angel Martinez, 27, and Jeamy Beatriz Melendez, 25, also accepted plea deals Friday and they were sentenced to 26- and six-year prison terms.
Alcala is such a pig that he returned to the scene of the shooting after a makeshift memorial was set up in Sura's memory.
Sura's family was devastated by his senseless murder.  His sister Gabriela said that "her brother liked to walk home from work because he could donate cash to homeless people along the way, and she recalled how he would often stop to buy groceries for the family."
Apparently Alcala was convicted with the help of a police informant who "helped police find the murder weapon and an undercover officer got incriminating statements from the defendant while they were together in a holding cell, according to the prosecutor."