WISEPLACE GUILD HOSTS 2ND ANNUAL 'FOR THE LOVE OF WISEPLACE' BENEFIT
Fundraiser celebrates the programs recent graduates
WHO: The Working Wonders for WISEPlace Guild will host the 2nd Annual "For the Love of WISEPLACE' event to raise proceeds for the WISEPlace Steps to Independence Program.
WHEN: Sunday, July 25 from 1:30 – 4:00 p.m.
WHAT: WISEPlace is a non-profit organization that offers housing and support services for homeless women who are committed to changing their lives. The Steps to Independence Program provides support services to these women such as individual and group counseling, resume writing, interviewing support, affordable housing assistance and more.
Claire Heath, founder of Divine Choices, a non-profit organization dedicated to helping sexual abuse victims, will host the event.
The event will feature musical guest Yve Evans, speeches and testimonials by WISEPlace graduates and staff, a catered lunch, and a chance drawing.
COST: Cost is $40 per ticket purchased in advance and $50 for tickets purchased at door.
Vendors to include: The Bag Lady, Suzy Shoozies and Monavie.
WHERE: 11542 Cielo Place, North Tustin, CA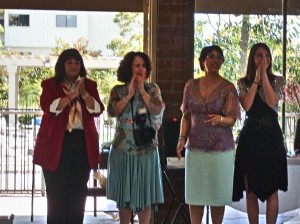 PHOTO OPPORTUNITY
Women who have graduated from WISEPlace's Steps to Independence Program, a transitional living program for homeless women, will speak at the event.
About WISEPlace
WISEPlace has an 85 year history of offering resources for Orange County women and children. Initially the South Orange County YWCA, the agency has provided housing and support services for homeless women since 1987. WISEPlace meets basic needs such as housing, food, clothing, physical and emotional nourishment, as well as vocational and life-skills training. The Hotel for Women is one of the only transitional housing programs in Orange County that accepts women who do not have dependent children with them. A WISEPlace second stage program, Positive Step, provides extended housing for up to two years for program graduates.
Wiseplace is located at 1411 N. Broadway, in Santa Ana.