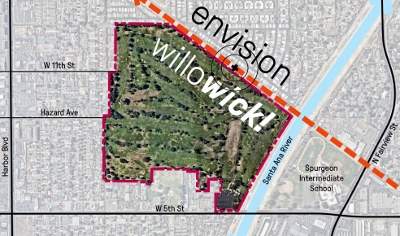 City of Santa Ana
Community: HELP ENVISION THE FUTURE OF THE WILLOWICK GOLF COURSE SITE! TONIGHT THURSDAY, OCTOBER 25 AT 6:00 PM
The Cities of Santa Ana and Garden Grove invite you to help develop a Vision Plan for the redevelopment of the Willowick Golf Course site.
Community members are invited to the fourth Willowick workshop to be held Thursday, October 25th, 2018 at 6:00 p.m. at Spurgeon Intermediate School, 2701 W 5th Street, Santa Ana, CA 92704.
This process will explore conceptual land use options that are formed by community and stakeholder collaboration and input. This visioning process will explore how Willowick can best serve and enrich the community. The Vision Plan will be a compilation of community driven needs, goals, ideas, and feedback. This fourth workshop will give the community opportunity to provide feedback on alternative concepts developed on input from the first three workshops.
For more information, visit: https://ggcity.org/econdev/envision-willowick
###
¡AYUDENOS FORMAR UNA VISION PARA EL FUTURO DEL SITIO WILLOWICK! JUEVES, 25 DE OCTUBRE A LAS 6:00 PM
Las Ciudades de Santa Ana y Garden Grove buscan su ayuda para desarrollar un Plan de Visión para el redesarrollo del sitio del campo de golf Willowick.
Miembros de la comunidad están invitados a el cuarto taller de Willowick el jueves, 25 de octubre, 2018 a las 6:00 p.m. en Spurgeon Intermediate School, 2701 W 5th Street, Santa Ana, CA 92704.
Este proceso explorara opciones conceptuales para el uso del sitio formados por la comunidad y la colaboración de otros interesados. El proceso de visión explorara como Willowick puede mejor servir y enriquecer la comunidad. El plan será una compilación de las necesidades, objetivos, ideas, y opiniones dirigidos por la comunidad. Este cuarto taller dará oportunidad a la comunidad de dar comentarios sobre conceptos alternativos desarrollados por ideas de los talleres anteriores.
Para más información, visite: https://ggcity.org/econdev/envision-willowick