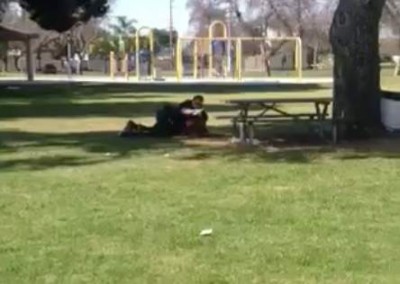 The Santa Ana Unified School District Police Department has launched an investigation into video footage apparently showing a school police officer restraining a sobbing 14-year-old boy with a headlock, according to the OC Register.
We broke this story – and it has since been reported in New York, in Philadelphia, and in Riverside.  But where has it not been reported?  That's right – there is NO MENTION of this on the SAUSD's website nor on their Facebook page.

SAUSD School Board Member Rob Richardson has not mentioned any of this on his Facebook Page.  SAUSD School Board Member Cecilia Iglesias has not mentioned it on her Facebook Page either.  What about the other SAUSD School Board Members?  I don't think John Palacio and Audrey Noji have Facebook Pages.  Jose Alfredo Hernandez does but it is just used to hype his law firm.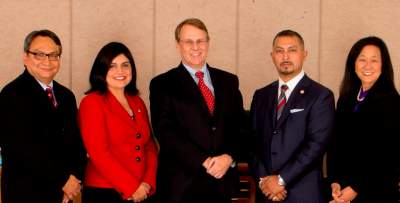 The OC Weekly has the best description of what happened during and after the school cop roughed up the youngster.  Do you know what is missing?  No comments from ANY of our SAUSD School Board Members.
The Voice of OC finally posted about this yesterday – I didn't see their article until a friend texted me about it.  In that post we finally heard from one of the SAUSD School Board Members, John Palacio:
School board member John Palacio also appealed for residents to reserve judgment until the department's internal investigation is completed.

A community forum between school officials and local residents might be appropriate, he added.

"I think we need to look at that as an option," said Palacio, adding that the issue needs to be dealt with before the next regular school board meeting, which is nearly two weeks away.
I mentioned the forum idea, as a town hall meeting, to SAUSD School Board Member Cecilia Iglesias, via Facebook.  That is a sound idea.
What I don't like about Palacio's comments is that while it is true that we have to reserve final judgement it is also true that what we saw in the video and what the bystanders have commented on sounds like totally inappropriate behavior by the school cop in question.  But it sounds like the SAUSD has handcuffed the Trustees.
Well here is there personal contact info so you can give them a piece of your mind – since they don't post their contact info on their official SAUSD web page:
And here is how you can contact the bigwigs at the SAUSD's administration:
Rick Miller, Ph.D.
Superintendent
Phone: (714) 558-5512
Fax: (714) 558-5610
Antonette Roberto
Confidential Assistant
to the Superintendent
Phone: (714) 558-5512
antonette.roberto@sausd.us
Cynthia Gastelo
Recording Secretary
Board of Education
Phone: (714) 558-5515
cynthia.gastelo@sausd.us
Rosie Rosales
Executive Assistant
Phone: (714) 558-5511
rosie.rosales@sausd.us
Travis Tamasese
Sr. Executive Secretary
Phone: (714) 558-5513
travis.tamasese@sausd.u