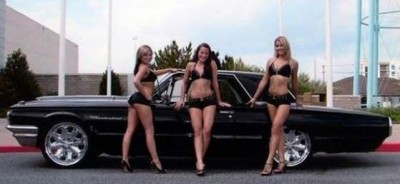 Here we go again.  The City of Santa Ana has announced, as usual, a crackdown on Easter Crusing:
Each Easter holiday, the City of Santa Ana experiences a high volume of unsanctioned cruising activity on Bristol St. This unsanctioned activity produces public safety concerns, numerous calls for service and grid-lock.

As with past years, the Santa Ana Police Department is taking pro-active measures to deter cruising activity throughout the city on Easter evening. Unfortunately, several city neighborhoods will be affected by the various street closures that will be established as a part of the anti-cruising effort.

On 04-20-14, starting at 6 PM, road crews will begin establishing several lane and road closures around the Bristol St. corrirdor. Traffic on Bristol St. between 1st St. and Warner Av. will be limited to one lane for each direction of travel (north and south). Edinger Av. from Bristol St. to Main St. will be completely closed. Traffic traveling on Main St. bewteen 1st St. to Anahurst Pl. will be limited to one lane of travel for each direction (north and south).

The lane and road closures will be in effect until 3 AM on Monday morning (04-21-14) and should not effect commuters.
You ever heard of Ocean City, Maryland?  They actually MAKE MONEY off cruising!  Click here and see for yourself.
Rather than go Jihad on cruisers here in Santa Ana every Easter wouldn't it be cool if the City were to monetize Easter Cruising like they do in Ocean City?
Close down south Main St. or South Bristol and charge folks to enter their cars in the Cruise.  Let vendors go nuts selling tamales, helote and paletas and have fun instead of paying the cops more overtime.
There is local precedence for this.  How much does the City of Long Beach rake in every time they host the Long Beach Grand Prix?  Imagine how many folks from who knows how many cities would come to our city for a sanctioned Easter Cruising event?  It would be off the hook!  Our local businesses would rake in all sorts of incidental sales.
Don't hold your breath though.  I doubt our all-Latino City Council will lift a finger to change the SAPD's annual attack on cruising.