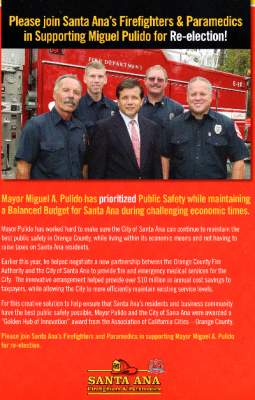 Santa Ana residents have been voting via absentee ballots for about a week.  During that time Assemblyman Jose Solorio has mailed a letter to all the voters in support of Mayor Miguel Pulido.  And Santa Ana's Firemen and Paramedics have also been featured in a mailer in support of Mayor Pulido.
Santa Ana Council Ward 3 Candidate Eric Alderete sent out a nice mailer the other day.  So did Councilman Vince Sarmiento and Ward 5 candidate Roman Reyna (the infamous mailer that featured Reyna wearing a clip on tie).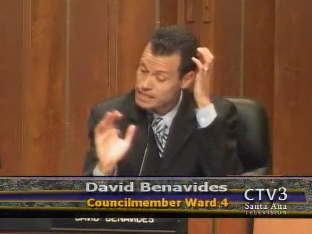 But where in the world are the mailers in support of Mayoral challenger David Benavides?
Not only have I not seen any Benavides mailers, I am told that his erstwhile allies are not walking for him either.  No one is.  What gives?
Apparently Benavides' entire campaign strategy is based on having Republican Orange Park Acres resident Art Lomeli comment on his behalf every time I rip Benavides!
Well folks, that is not going to get it done.  The election will be upon us very soon.  Pulido's campaign has a huge crew of volunteers making phone calls every night.  Pulido himself is appearing at events all over town.  And Benavides?  Well he appears to be running about as hard as the Amezcua sisters who are running in Wards 1 and 3.
This election appears to be over already.