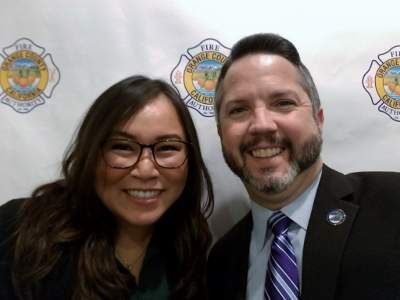 Santa Ana voters have elected Councilman Vicente Sarmiento to replace termed out Miguel Pulido as Mayor and three relatively young council members: Thai Viet Phan, in Ward One, Jessie Lopez in Ward Three and Johnathan Ryan Hernandez in Ward Five.
What can we expect from this new City Council? They will be working with Council holdovers David Penaloza in Ward Two; Phil Bacerra, in Ward Four; and Nelida Mendoza, in Ward Six.
Will there be a new City Council Majority? The most liberal Council members include Sarmiento, Lopez, Hernandez, Penaloza and Phan. Bacerra is more of a moderate and you can say the same for Mendoza.
The City Council Members will differ when it comes to law enforcement. Penaloza, Mendoza and Bacerra have been supported by the Santa Ana Police Officers Association in the past and the POA also contributed to PACs that helped Phan this year. Sarmiento, Lopez and Hernandez will likely be at most odds with the POA even though Sarmiento voted for their massive pay increase a couple years ago.
Lopez told the O.C. Register that she would support an independent police commission with subpoena powers and investigative authority. Hernandez, Phan and Sarmiento also said they also would take a look at creating an independent police oversight commission – an idea rejected by previous councils.
Phan, Hernandez and Sarmiento told the O.C. Register that they would take a closer look at issues affecting youth, low-income residents, families and the city's immigrant community, including those who are undocumented.
Hernandez also told the O.C. Register that he wants to bring rent control to the city, providing more funds for libraries and community centers, and prioritizing youth and family services.
We cannot discern much about Phan's plans from her campaign website as it does not know her opinions on any specific issues. However we do know that she is an attorney for a major law firm that provides legal consultation to cities in Southern California. She will come to the City Council with more knowledge about municipal affairs than most new City Council members.
Lopez does offer up her priorities on her campaign website and they include:
HOUSING: Residents deserve leaders who take real action and address their needs. Jessie will work to enact protections for renters and build coalitions with local leaders to produce better housing options.
HOMELESSNESS: It's also apparent that the homelessness crisis is a housing crisis. We can no longer use old solutions and expect new results. We cannot add new shelters to our Santa Ana community. We must work in collaboration with other cities and the county to maximize the benefits of the resources we already have.
TRANSPARENCY & CO-GOVERNANCE: City politics works best when it embraces the people's voices in decision-making at every level. Jessie's priority is to ensure that the community members of Santa Ana are heard and supported in all decision making processes. She believes this can be accomplished by continuing her work engaging the community by hosting accessible local events, town halls, and virtual meetings.
SAFE & VIBRANT SANTA ANA: Santa Ana deserves an equitable budget that reflects our community's investment in our future — our youth — while still respecting the beauty that our city has to offer including our parks, our museums, and our vibrant neighborhoods. Jessie will promote a safe Santa Ana by investing in programs that enhance our quality of life.
SUPPORTING YOUTH PROGRAMS: As one of the youngest cities in the nation, Jessie believes it is our responsibility to build the leadership we wish to see and create opportunities for everyone to participate in shaping the future of our city.
Hernandez also posted his Issues on his campaign website:
ADDRESS HOMELESSNESS – As an experienced social worker, Johnathan understands some of the challenges that those experiencing homelessness face. He will prioritize resources for rehabilitation programs and maintain strong relationships with local leaders for a comprehensive plan to advocate for affordable housing.
INVEST IN OUR YOUTH – The City of Santa Ana has more young people ages 13 to 24 than any other city in Orange County. Johnathan is committed to supporting young people and providing opportunities in education, civic engagement, and career development so they can reach their full potential.
IMPROVE QUALITY OF LIFE – Johnathan is dedicated to ensuring our neighborhoods are safer and more inclusive for all families to thrive. He will increase outreach efforts for more transparency and actively promote community-based solutions that put residents first, not special interests.
PROTECT THE ENVIRONMENT – Open space and clean parks are essential services. Community lands belong in community hands, and Johnathan will work to ensure that public spaces are maintained for the benefit of the community, not outside developers who only care about making a profit.
I have noticed that, since the election, more homes appear to be for sale in Santa Ana. One has to wonder if we will see a trend of more people giving up on Santa Ana and leaving as a result of this election.
The new City Council members will have four years to figure things out before they have to run for reelection but Sarmiento will only have two years as the Santa Ana Mayor has two-year terms. That means Sarmiento will have to start raising money right away for his next campaign and he will have to restrain himself and be more moderate or risk attracting more candidates to oppose him in 2022.
The Santa Ana City Council must figure out what to do with our homeless problem and the huge number of drug addicts roaming and causing chaos in our city. They must also contend with the ongoing COVID-19 crisis and shore up an economy that has ruptured as so many businesses have shuttered or are now on life support.
Who will lead this new City Council? Sarmiento is not know for being a vocal leader. Nor is Mendoza. Bacerra has a chance to take up that role but he must also deal with the fact that in two years Mendoza will have to run again and she lives in the same ward as Bacerra. Thus the first order of business for the new Santa Ana City Council may be to redraw the ward maps, using the new data from the U.S. Census, so Mendoza and Bacerra can be placed in different wards.