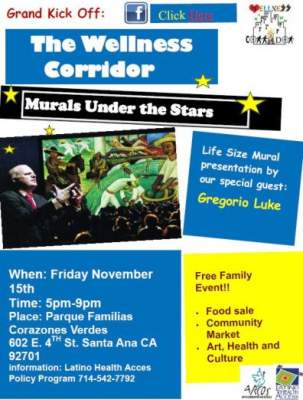 City of Santa Ana, Downtown Orange County
Community: The Wellness Corridor Kick-off Event is scheduled to take place in Downtown Santa Ana on November 15th and 16th
SANTA ANA, CA (November 5, 2013) – Join the City of Santa Ana and Latino Health Access at the upcoming Resource Fair and Kick-off for the Wellness Corridor on Friday, November 15 and Saturday, November 16, 2013. The Wellness Corridor aims to create a healthy and safe place for people in central Santa Ana where children, youth, and their families have the ability to make healthy choices. Individuals that live in communities that offer healthy food and opportunities for physical activity increase the likelihood that they will eat well, be physically active, and increase overall wellness.
The two-day event will culminate on Saturday, November 16th with a grand kick-off event where participants will be walking, biking, and celebrating the Wellness Corridor from 9am-4pm. Participants will walk 1.5 miles or bike 9.2 miles in the Wellness Corridor. Afterwards, participants will enjoy prizes, local artistry, and live music. In addition, the event will feature a Resource Fair from 12pm-4pm. The aim of the resource fair is to attract people to businesses as well as advise local residents about services available to them.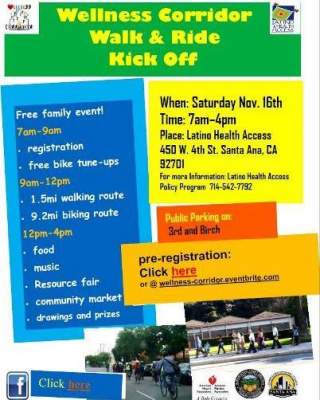 This event takes place over a two-day period. See below for details:
Murals Under the Stars Event
Friday, November 15, 2013
5:00 pm to 9:00 pm
Parque Familias Corazones Verdes
602 E. 4TH St. Santa Ana, CA, 92701
Wellness Corridor Walk & Ride Event
Saturday, November 16, 2013
9:00 am to 4:00 pm
Latino Health Access
450 W. 4th St. Santa Ana, CA, 92701
For more information about these events, please call 714-542-7792
.
####
For full details, view this message on the web.