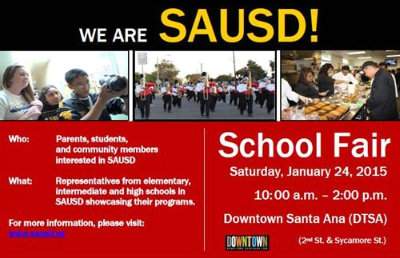 Media Advisory
Saturday, January 24, 2015
(January 14, 2015) – The Santa Ana Unified School District invites parents and community members interested in learning about the unique opportunities and programs available to students in the district to the We are SAUSD School Fair. This event will be held Saturday, January 24, 2015 from 10:00 a.m. – 2:00 p.m. in downtown Santa Ana between 2nd and Sycamore Street.
There will be entertainment, information specific to participating schools, and student speakers available to share their school experiences. All of the traditional high schools including Century, Godinez Fundamental, Middle College, Saddleback, Santa Ana, Segerstrom, and Valley high schools and all of the intermediate schools including Carr, Lathrop, MacArthur Fundamental, McFadden, Mendez Fundamental, Sierra Preparatory Academy, Spurgeon, Villa Fundamental, and Willard intermediate schools will be represented.
For more information please contact the SAUSD Communications office at (714) 558-5555 or (714) 673-4995 or at deidra.powell@sausd.us.
###