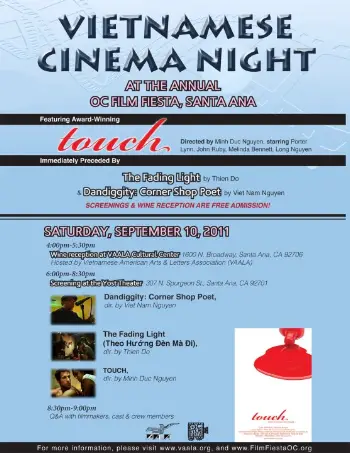 PRESS RELEASE, FOR IMMEDIATE RELEASE
Contact: VAALA, Email: vaala91@yahoo.com, Tel. (714) 893-6145
THE VIETNAMESE ARTS & LETTERS ASSOCIATION (VAALA) PRESENTS VIETNAMESE CINEMA NIGHT AT OC FILM FIESTA
SANTA ANA, Calif. – The Vietnamese American Arts & Letters Association (VAALA) is proud to present "Vietnamese Cinema Night" at the annual OC Film Fiesta on Saturday, September 10, 2011. The event will be kicked off by a wine reception from 4:00pm-5:30pm at VAALA Cultural Center, 1600 N. Broadway, Santa Ana, CA 92706. The wine reception will then be followed by screenings of Dandiggity: Corner Shop Poet, The Fading Light and the feature presentation of Touch. The wine reception and the screenings are open to the public and free admission.
"The Vietnamese community is a large part of Orange County. The Vietnamese and Latino communities actually do share a lot of the same issues. Through the film festival, I hope we will be able to bring people out and share the cultures and learn from each other's experiences," OC Film Fiesta director Sandra Peña Sarmiento said.
All three films featured on the Vietnamese Cinema Night were played at the last biennial Vietnamese International Film Festival in April. The feature film Touch went on and won Best Story Line, Best Actress, and Best Cinematography at Boston International Film Festival. It also garnered the Audience Choice for Best Feature at the Vietnamese International Film Festival (ViFF) 2011.
Touch, directed by Minh Duc Nguyen, follows a Vietnamese manicurist named Tam, whose new customer, Brendan, a shy mechanic, literally has a problem on his hands. He can never get rid of the oil stains around his nails, and when he tries to be intimate with his aloof wife, she always rejects him with the same excuse:"Your hands are filthy!" Desperately seeking to save his marriage, Brendan goes to the nail salon every day, where Tam does more than scrub his hands clean. She also offers him advice on how to get his wife to love him again. But soon, Tam and Brendan find themselves drawn to each other, an attraction which becomes harder and harder to resist. Touch explores the sense of touch and its emotional impact — how with just a simple touch, we can reveal our deepest longings, give the utmost pleasure to others and even heal a wounded soul.
The Fading Light (Theo Hướng Đèn Mà Đi), directed by Thien Do, tells the story of a young Vietnamese American man revisiting his childhood home in Saigon where he is confronted with his boat escape from Vietnam. Shot in modern day Vietnam, the film unfolds the story of a man's struggle to make sense of the event that shaped his life.
Lastly, Dandiggity: Corner Shop Poet documents the story of a 29-year old Vietnamese American spoken word artist living in San Jose, California who tries to balance his time between an untraditional job and being a poet as he works seven days a week at the Corner Stop Shop.
For more information on the event and the films, please visit www.ocfilmfiesta.org, www.vaala.org, andwww.VietFilmFest.com .
About the filmmakers
Minh Duc Nguyen – Minh Duc Nguyen attended UC Berkeley, where he discovered his love for creative writing. Several of his short stories were published in prestigious literary journals and anthologies.Tale of Apricot was nominated for the O. Henry Award. In graduate film school at USC, Minh received the Jeffrey Jones Scholarship for excellence in screenwriting. His thesis film, Sunshine, inspired a favorable review in LA Weekly and was accepted at many film festivals. Touch marks his feature-length directorial debut.
Thien Do – Born in Vietnam, Thien came to the United States in 1975 as part of the first wave of Vietnamese refugees. After receiving his university degree in visual arts, he founded an award-winning advertising agency in San Francisco. As an artist, he has exhibited in both Vietnam and the United States. Most recently, his collaborative experimental film "Porcelain" was shown at the Zeeuws Museum inMiddleburg, Holland and has been included in the museum's permanent collection. "The Fading Light"("Theo Hướng Đèn Mà Đi") is his first narrative short film. It has been widely screened at festivals throughout the world and was awarded the prize for Best Cinematography at Sapporo International Short Fest and nominated for Best Short, Best Editing, and Best Cinematography at the California Independent Film Festival.
Viet Nam Nguyen – With the help of his family, Viet has been inspired to make films that portray the Asian American community with authenticity that's not offered in the mainstream media. While studying Asian American Studies, Viet learned how to make documentary films about the APIA community with the help of Bob Nakamura, Gena Hamamoto, and Tad Makamura at the UCLA Center for Ethnocommunications. In his free time, Viet enjoys skateboarding the sidewalks and streets of L.A., plays basketball whenever he can since he's a Hoosier, and tries to eat at every taco truck that he can see.
About OC Film Fiesta
Launched in 2010 as part of The City of Santa Ana's 2010 "Fiestas Patrias – Fiestas de Independencia" Mexican Bicentennial, this unity-building event provides downtown audiences, both new arrivals and traditional families, with entertaining events throughout the City of Santa Ana that deepen relationships with local cultural groups, businesses, colleges and the film industry. The OC Film Fiesta adds a vital new dimension to the traditional festivities of the city by celebrating Santa Ana's cultural diversity through a selection of feature films, documentaries, short films and special events, such as a classic car show.
About VAALA
Founded in 1991 by a group of Vietnamese American journalists, artists and friends, Vietnamese American Arts & Letters Association (VAALA) is a community-based, 501 (c) (3) non-profit organization. VAALA has organized numerous cultural events such as art exhibitions, book fairs, book signings, recitals, plays, lectures, the biennial Vietnamese International Film Festival (ViFF), the biennial Cinema Symposium, the annual Children's Moon Festival Art Contest and year-long art and music classes. VAALA recently developed smART Program, which offers free art workshops for non-profit youth organizations in the Orange County and Los Angeles areas.