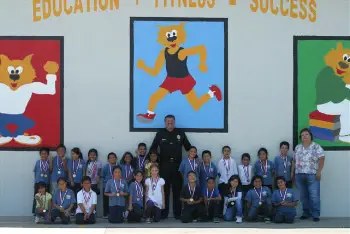 Congresswoman Loretta Sanchez, representing California's 47th Congressional District
PRESS RELEASE, FOR IMMEDIATE RELEASE: September 9, 2011
MEDIA CONTACT: Adrienne Watson 202-309-0825
SANCHEZ ANNOUNCES MAJOR COPS GRANT TO PROTECT COMMUNITY
WASHINGTON, D.C. – Congresswoman Loretta Sanchez (CA-47), senior member of the Committee on Homeland Security, today announced that Santa Ana Unified School District Police Department will receive a $499,456.00 grant from U.S. Department of Justice Office of Community Oriented Policing Services (COPS) to help respond to growing school safety and security concerns.
"I am extremely pleased to hear about this $499,456.00 in funding for law enforcement to protect our schools," said Sanchez. "Our ultimate goal is to ensure the safety of the students and school personnel and COPS funding is critical to that end. To keep our children safe and to give families peace of mind, we must provide Santa Ana's law enforcement the resources they need to keep our community a safe place to live, work, and learn."
COPS funding provides law enforcement the opportunity to improve preventative community policing. Proactive policing allows law enforcement to better understand and address both the needs of the Orange County community and the factors that contribute to crime.
"Under the targeted framework of the COPS Office and with the support of Congresswoman Loretta Sanchez, the Santa Ana Unified School District Police Department and the greater Santa Ana community will be well served by this grant award supporting our continued efforts to ensure students and staff thrive in a safe learning and working environment," said Santa Ana School Police Chief David Valentin.
Congresswoman Loretta Sanchez is proud to represent California's 47th Congressional District, which includes the cities of Anaheim, Garden Grove, Santa Ana, and parts of Fullerton in Orange County. She serves as Ranking Member of the House Armed Services Subcommittee on Strategic Forces and a senior member of the Committee on Homeland Security. Rep. Sanchez is also a member of the fiscally conservative Blue Dog Coalition and sits on the bipartisan, bicameral Joint Economic Committee.
# # #
United States House of Representatives
1114 Longworth House Office Building • Washington, DC 20515
Phone: 202-225-2965 • Fax: 202-225-5859