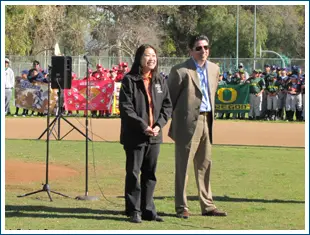 When Santa Ana Councilman Carlos Bustamante ran for reelection, in 2008, he was fully supported by Santa Ana Mayor Pro Tem Claudia Alvarez.  In fact he even sat next to her during the campaign debates – and she would help him with what to say as he was usually over his head.
Why then did Bustamante turn on Alvarez this week – and try to use the Code of Ethics to remove her from the position of Mayor Pro Tem, and from the OC Water Board?
An insider I know, who is about a third-tier member of the Usual Suspects, confided to me yesterday that the reason that Bustamante turned on Alvarez is simple – Supervisor Janet Nguyen put him up to it.  My source  reported that Nguyen wanted to see Alvarez crushed in order to prevent Alvarez from running for Nguyen's First Supervisorial seat.
What was in it for Bustamante?  Plenty.  In fact thousands of dollars were at stake.  Bustamante was one of the County of Orange managers busted by an internal audit that showed he received vast raises that were unwarranted.
Bustamante was the OC Public Works administrative director when he was promoted to executive manager to also oversee OC Facilities. OC Public Works Director Jess Carbajal told auditors in December that Bustamante could not do the entire job because of potential conflicts with his City Council position. Santa Ana pays for half of the Civic Center maintenance costs; the county the other half. Carbajal said the assignment was temporary; the CEO said it was permanent. Bustamante was the Republican establishment's preferred candidate for an open seat on the Orange County Board of Supervisors in 2007. He finished fourth in the contest. The county paid him $156,178 last year. (O.C. Register)
The Supervisors are considering revoking the raises, in the wake of a blistering report by a subcommittee headed up by Supervisors Shawn Nelson and Pat Bates:
Among the managers who could have their raises and promotions revoked are:  Susan Schroeder, chief of staff for the Orange County District Attorney's Office; Assistant CEORob Richardson, who saw his pay increase 33.13 percent in just six months after he was promoted from assistant to the CEO in January 2006; and Santa Ana City CouncilmanCarlos Bustamante, who was promoted to executive manager for OC Public Works last February. (O.C. Register).
Will Nguyen act to save Bustamante's illegal raises?  If she does we will know that she cut a deal with Bustamante – go after Alvarez and you will get paid.  That looks like a raw deal now, as the Santa Ana City Council ignored the motion Bustamante and his ally, Councilman David Benavides, produced.  It should also be noted that Benavides once asked Nguyen for a job in her County office.
Bustamante and Nguyen also worked together last year to try to elect Republican former Assemblyman Van Tran to Congress, but incumbent Loretta Sanchez trashed him on Election Day.
The O.C. Supervisors and the O.C. Grand Jury need to look into these charges.  They should look at Nguyen's and Bustamante's County computers and see if they exchanged emails about this affair.  I cannot imagine that such quid pro quo behavior would be legal.