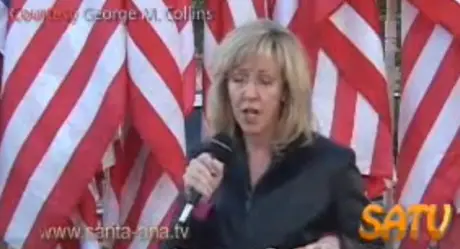 When George Collins, a past candidate for Santa Ana Mayor, showed up at a Republican Party of Orange County event in Yorba Linda, his aim was to film the comments made by the speakers, and then put them up on his YouTube page.  He surely had no idea what was going to happen after he put up the video, which shows Villa Park Council Member Deborah Pauly making very harsh statements about Orange County's Muslim community.
What set Pauly off was the actions of the Muslim Student Union at the University of California at Irvine (UCI).  Eleven Muslim students were arrested during Israeli Ambassador Michael Oren's speech on campus in February. Those 11 students stood up one at a time and yelled during Oren's presentation and were subsequently detained, according to the O.C. Register.
Here is a video of the Muslim students' protest:
Who is this guy Michael Oren?
Here are excerpts from his bio.:
Michael B. Oren is the State of Israel's Ambassador to the United States.

A graduate of Princeton and Columbia, Dr. Oren has received fellowships from the U.S. Departments of State and Defense, and from the British and Canadian governments. Formerly, he was the Lady Davis Fellow of Hebrew University, a Moshe Dayan Fellow at Tel-Aviv University, and the Distinguished Fellow at the Shalem Center in Jerusalem. He has been a visiting professor at Harvard, Yale, and Georgetown.

Ambassador Oren has written extensively for The Wall Street Journal, The New York Times, and The New Republic, where he was a contributing editor. His two most recent books, Six Days of War: June 1967 and the Making of the Modern Middle East and Power, Faith, and Fantasy: America in the Middle East, 1776 to the Present, were both New York Times bestsellers. They won the Los Angeles Times' History Book of the Year prize, a National Council of the Humanities Award, and the National Jewish Book Award.

Raised in New Jersey, where he was an activist in Zionist youth movements and a gold medal winning athlete in the Maccabia Games, Ambassador Oren moved to Israel in the 1970s. He served as an officer in the Israel Defense Forces, in the paratroopers in the Lebanon War, a liaison with the U.S. Sixth Fleet during the Gulf War, and an IDF spokesman during the Second Lebanon War and the Gaza operation in January 2009. He acted as an Israeli Emissary to Jewish refuseniks in the Soviet Union, as an advisor to Israel's delegation to the United Nations, and as the government's director of Inter-Religious Affairs. He has testified before Congress and briefed the White House on Middle Eastern affairs.
Interesting.  This guy Oren is no common diplomat.  He has a lot of Arab blood on his hands.  Now you could argue how that came to be, but the fact is I can understand why Muslim students might not be happy to welcome this man to their campus.
These Muslim students aren't monsters, I don't think.  They are brave individuals who risked everything for what they thought waas right.
But Pauly thinks they are "unwelcome invaders."  Click here to see the video of her disturbing comments.  I would normally embed the video here, but Collins disabled that feature on his YouTube page.  He was upset because a Muslim organization used excerpts of his video in their own YouTube video, which was taken down when Collins claimed he had a copyright to the original video.
Collins, like Pauly, is a Republican.  She is also a member of the OC GOP's Executive Committee.