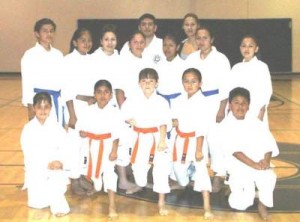 The Te-Kenjutsu-Kan Karate-Do karate organization, of Santa Ana, is having a Valentine's Day Fund Raiser Dinner/Dance on Saturday, February 16th. They will be at their WisePlace Dojo, located at 1411 N. Sycamore, in Santa Ana, from 6:30 pm to 11:00 pm.
The admission price is $15.00 for Adults and $10.00 for children 12 yrs. and under. The price includes Dinner and Drinks (non-alcoholic), DJ, Cumbia Band and Raffle Ticket for door prize. This is a local 501C3 Organization and work with the inner city youth to keep them on the right track.
This dance is to help raise funds for their bi-annual trek to compete in our 50th State, Hawaiian International Karate Championship. Held on the Island of Oahu. The trip is scheduled for the first week of August. They try and take students that have never been.
Contact: Pete Mangosing, (714)-745-7801, Chief Instructor, www.te-kenjutsu-kan.com