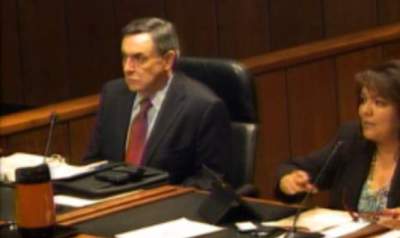 UPDATED: Reportedly Paul Walters is going to negotiate an exit from Santa Ana's City Hall and won't be returning to the SAPD.  I am told that he cares too much about the rich history of the SAPD and is afraid that if he returns to there the Council will undermine him and hurt the department.   Best of luck to Walters, who deserved better than this, after 42 years of service to the people of Santa Ana.
"The Santa Ana City Council was scheduled to meet Thursday afternoon to discuss the terms of its separation from City Manager Paul Walters, which could include a request for a public hearing on behalf of the fired administrator," according to the L.A. Times.
I have it on good authority that, according to an anon source at City Hall, Walters will not in fact request a public hearing.  He does not want to see his family dragged through the mud by the insane City Council members.
He is also said to have scoffed at the suggestion that the Council will be able to dig up any dirt on Walters – a highly respected public administrator.
Walters' contract stipulated that he must be allowed to return to the SAPD as Police Chief if he is let go as City Manager.  His lawyer, Wendell Phillips, told the L.A. Times that Walters may also end up negotiating an exit settlement.
I would not blame Walters if he decided to leave.  The Council will stick the taxpayers with the resulting bill.