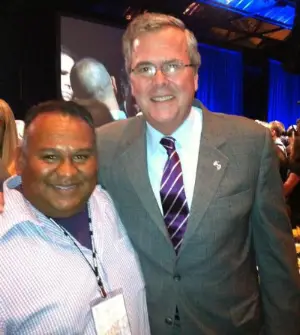 Popular Santa Ana Council Member Sal Tinajero pulled papers today to run for Mayor of Santa Ana.  Tinajero served on the SAUSD School Board before getting elected to the Santa Ana City Council in 2006, when he beat a candidate backed by Santa Ana Mayor Miguel Pulido.  Tinajero won by just under a thousand votes against Jennifer Villasenor, according to Smart Voter.
Tinajero just missed being the top vote-getter when he won a seat on the SAUSD School Board in 2004.  He was the top vote-getter when he first won a school board seat in 2000.
Tinajero is an award-winning public school teacher in Fullerton, where he also heads up a debate team that has made a real difference in hundreds of lives.  Many of his students have gone on to succeed in college, often with Tinajero's direct help.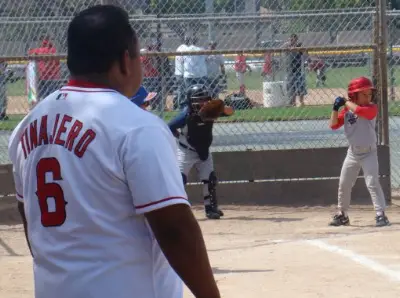 I ran into Tinajero several times this year while I was serving on the board of the Northeast Santa Ana Little League.  His son Vincent was a key part of a City championship team in the AAA division – the Valley Titans.  Tinajero has also been involved in coaching for Pop Warner football for many years.
According to his official bio, Sal was "born and raised in Santa Ana.  Tinajero is a product of the Santa Ana Unified School District and also attended Orange Coast College.  A scholarship to Bradley University in Illinois resulted in a Bachelor's degree in Communications.  In addition, Sal holds a Master's in Cross Cultural Education from the National University.  Dedicated to education, Sal was named the 2006 National Hispanic Teacher of the Year for his exceptional achievements as a history, speech and debate teacher at Fullerton Union High School and was invited to the White House by first lady Laura Bush."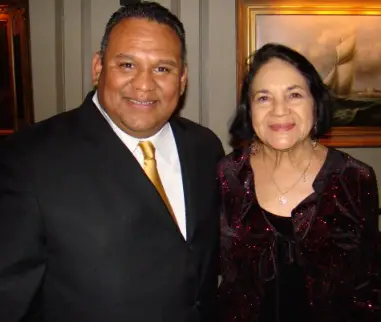 Tinajero is a loyal Democrat – and he has many friends in his party, in D.C. and in Sacramento.  Although he is true blue he also has friends in the GOP – but he has not been compromised, unlike his colleague, David Benavides, whose ongoing friendship with Council Member Carlos Bustamante has become a supreme embarrassment.
Tinajero is also loyal to organized labor – so loyal that when his own union asked him to endorse Julio Perez for the 69th Assembly District, he did it.  In Santa Ana that is bound to help him.
Most importantly, Tinajero is a devoted husband and father.  His wife Jennifer is a director of nursing at Hoag Hospital.  They have three beautiful children – Salvador, Vincent, and Grace Natalia.
I know that running for Mayor was not an easy decision for Tinajero.  And I know he had to be annoyed when Benavides pulled papers first – a move that is already being questioned throughout the city.  My sources tell me that it is a matter of time before Benavides pulls out.  If he stays in, he will not come in last, although I expect he will be next to last, as gadfly and past mayoral candidate Roy Alvarado pulled papers today as well.
You can friend Tinajero on Facebook here.