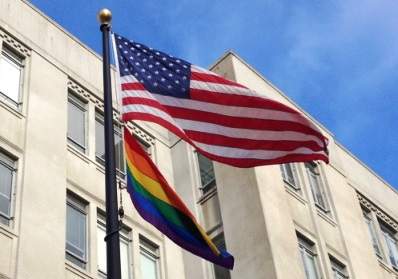 The City of Santa Ana is awash with gang violence, graffiti and leads the County of Orange in fatal accidents between vehicles and both pedestrians and bicyclists.  So what is Santa Ana Councilman Sal Tinajero choosing to take a stand on?  He wants to "fly the gay pride flag outside city hall, next to the national flag and the California state flag," according to the O.C. Register.
I am not terribly opposed to this idea but why this is Tinajero's top priority when there are so many other problems in Santa Ana?
It is widely know that Tinajero has a gay son but that is not reason enough, in our opinion, to make this a civic priority when there are so many other problems in Santa Ana – including an out of control police force that is being investigated for beating up a suspect that they chased down and also for breaking and entering into a medical marijuana dispensary where they damaged equipment and ate marijuana edibles – and were caught on video doing this.
Tinajero made headlines a week ago when it was revealed that he has been a paid consultant to medical marijuana dealers.  Now he is making a rainbow flag a priority.  How about doing the job he was elected to do instead?
If you would like to reach out to Tinajero about this click here to send him an email.