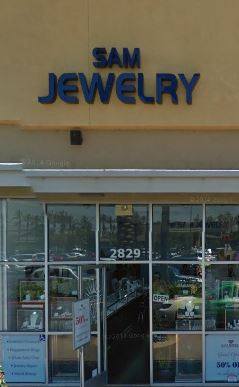 On May 16, 2023, at approximately 2:30 pm, the Tustin Police Department responded to a robbery in progress at a jewelry store in the 2800 block of Park Avenue. Sam Jewelry is located at 2829 Park Ave, in Tustin.
Multiple suspects were reportedly inside the store, smashing display cases. When officers arrived, the suspects fled in a white SUV. A pursuit ensued, which ended in the City of Westminster.
Three male suspects ran from the vehicle on foot and a large perimeter was established by multiple Orange County Law Enforcement Agencies.
After an extensive search of the area, the suspects were located and apprehended. One suspect was identified as Kristen Tytrell Woods, 20-years old, from Los Angeles. The other two suspects are juveniles.
There were no reported injuries. The investigation is ongoing and anyone with information is encouraged to contact Detective Schultz at 714-573-3250.
The Tustin Police Department was assisted by several other departments in the pursuit and arrest of the suspects including: the Irvine Police Department, the Westminster Police Department, the Seal Beach Police Department, the Huntington Beach Police Department, the Orange County Sheriff's Department, the Costa Mesa Police Department and the Cypress Police Department.