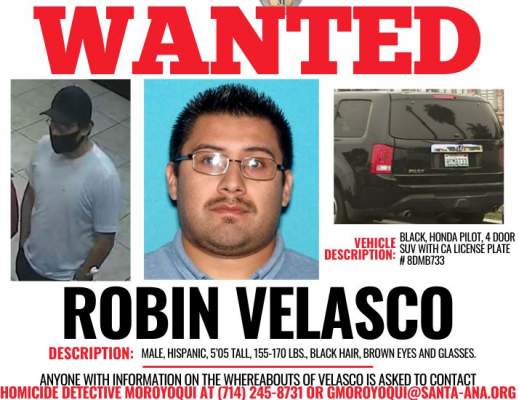 On 2/13/2021 at 6:20 PM, the victim and Robin Velasco had a verbal argument inside the Chinatown Express Restaurant located at 2050 N. Grand Avenue. The victim walked to a U-Haul truck with his food. As the victim and his stepfather were about to eat, Velasco drove up and shot into the U-Haul truck approximately 2 to 3 times, striking the victim.
Velasco's vehicle was last seen traveling southbound Grand Avenue. At the time of this incident, Velasco had three minors with him inside the vehicle.
 
Wanted Suspect: Robin Alexander Velasco
Suspect Description: Male, Hispanic, 5'05 tall, 155-170 lbs., black hair, brown eyes and glasses.
Vehicle Description: Black, Honda Pilot, 4 door SUV with CA license plate # 8DMB733
Anyone with information on the whereabouts of Velasco is asked to contact, Homicide Detective Moroyoqui at (714) 245-8731 or gmoroyoqui@santa-ana.org.