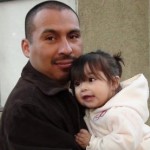 Our readers have voted and their overwhelming choice for Santa Ana's Man of the Year in 2010, is Naui Huitzilopochtli, a local migrant rights activist and videographer, who got almost a third of the total vote.
The runner-up to Naui was Santa Ana artist Theo Hirsch, who you can friend on Facebook by clicking here.
Who knew what a firestorm would be set off when Naui and a few friends visited last year's Santa Ana 4th of July event, which was held at the Santa Ana Public Library?  Naui, as always, brought his video camera and he was on the hunt for Minutemen.  He had heard that infamous Minuteman Lupe Moreno was heading up the event and he figured he might catch someone in the act of racism.  Well, he did.
One of Moreno's Minuteman friends called Naui and his associates "wetbacks," and Naui caught it on videotape.  Then we posted the video here – and it went viral.  It has been viewed over 10,000 times!  You can watch it again atop this post.
In the end, Santa Ana Councilman David Benavides got in hot water as he insisted on handing out certificates thanking Moreno and her Committee – but the members of that Committee were mostly Republicans and many of them did not live in Santa Ana.  The rest of the Santa Ana City Council refused to go along with this.
You can see the follow-up to the original video above. It depicts Benavides clearly interacting with Moreno at the event. And below you can see Moreno filing a false police report.
You can watch all of Naui's amazing videos at this link.  And click here to friend him on Facebook.
Naui is very much involved with El Centro Cultural de Mexico and he is also a very proud papa.  I am honored to call him my friend.  Congratulations Naui!