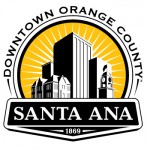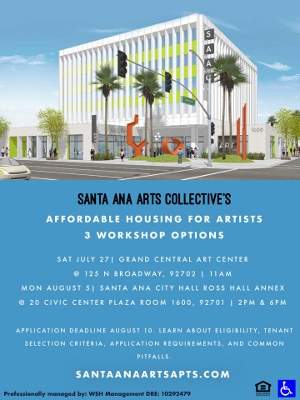 The Santa Ana Arts Collective is located at 1666 N. Main Street in the City of Santa Ana. The project will offer 42 affordable apartments for households who are income eligible, with a preference for artists and/or those who live or work in the City of Santa Ana. An additional 15 units will be for MHSA-eligible families/individuals referred through Orange County's Coordinated Entry System.
Santa Ana Arts Collective is now accepting pre-applications. Pre-applications will be accepted only via mail and must be postmarked by August 10, 2019.
To learn more about eligibility and application requirements please attend one of the three optional workshops listed below. The property management company will be conducting these Affordable Housing Workshops, which are designed to teach attendees about eligibility, the resident selection criteria, application requirements, and common pitfalls. They anticipate move-ins to begin in November 2019.
Please join us at any of the 3 times and dates listed below:
WORKSHOP #1:
Date/Time: Saturday, July 27, 2019 at 11:00AM
Where: Grand Central Art Center
125 N Broadway
Santa Ana, CA 92701
Grand Central Art Center is located on a promenade on Broadway and 2nd Street in the heart of downtown Santa Ana.
PUBLIC TRANSIT
The closest bus stops to Grand Central are 2nd/Broadway, 1st/Main, and 1st/Ross. Busses with routes that stop at these locations are 64/64X, 53/53X, and 66.
PARKING
The closest parking is available at the Artists Village Parking Structure on 3rd and Sycamore. Rates are $0.50 (first 30 mins); $1 Per Hour; $7 Daily Max.
Metered street parking is also available. Rates are $1.00 per hour with a 2-hour maximum limit. Parking rates and availability is subject to change with downtown events. Bike racks are available on the promenade.
WORKSHOPS #2 and #3:
Date/Time: Monday, August 5, 2019 at 2:00 pm OR
Monday, August 5, 2019 at 6:00 pm
Where: City Hall
20 Civic Center Plaza
Ross Hall Annex, Room 1600
Santa Ana, CA 92701
PARKING
City Hall Parking Lot – 2 entrances:
• Santa Ana Blvd and Civic Center Plaza/Parton
• Flower Street and 6th
• (The entrance to the Ross Hall Annex is located on the side of the building closest to N. Ross St. on the right)
*If you arrive after 6:00 PM, there will be a number posted on the door to call for someone to let you in.
PUBLIC TRANSIT
• The closest bus stops to City Hall are Santa Ana/Ross, Civic Center/Parton, and Flower/6th. Busses with routes that stop at these locations are 55, 83, 150, and 462.
Applications can be obtained by joining the interest list at http://santaanaartsapts.com/
You may also call (714) 294-0000 for more information. Please do not leave multiple messages. Calls will be returned as soon as possible.
*Please do not visit the project location, as it is an active construction site where NO visitors are allowed.