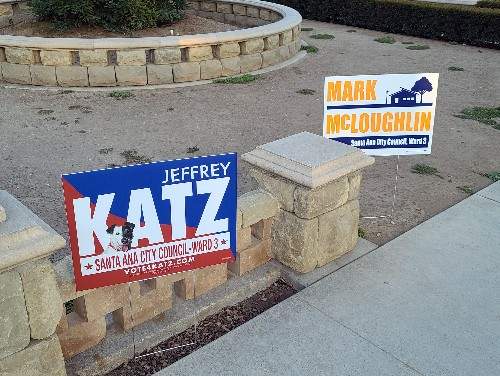 The ballots for the Nov.3 election should be coming to our mailboxes around Oct. 5 but the race for Ward 3 on the Santa Ana City Council appears to be all but over – only three of the five candidates appear to have mounted actual campaigns and one of them, Jessie Lopez, is far too liberal to actually prevail.
That leaves two viable candidates – Mark McLouglin and Jeffrey Katz.
I was hoping that Janelle Welker would be able to do more as a candidate but I suspect that fundraising has been difficult for the first-time candidate.
The aforementioned Lopez has put up a few yard signs but I have not seen any walk pieces or mail from her campaign yet.
Many Ward 3 voters are struggling with who to back, McLoughlin or Katz. They both opposed the 2525 N. Main St. apartment development. But Katz did more than that. As an attorney he represented the Park Santiago Neighborhood for free as they litigated against the apartment developer.
The problems caused by the homeless are likely the top issue in Ward 3 and on that front Katz has a long history of working hard to resolve this issue. He even posted an essay on this subject on his website.
McLoughlin has zero issues on his campaign website, just a big picture of his face.
If you are a fan of Santa Ana Mayor Miguel Pulido then McLoughlin is your guy. McLoughlin has been Pulido's wingman for over 20 years.
If you are looking for new leadership that might actually accomplish something at City Hall then Katz is your guy. He is innovative, smart and caring – all the exact qualities we should be looking for from our City Council candidates. If you would like to help Katz click here.
We don't often endorse candidates at this point but we are making an exception this time. Katz has our full support in Ward 3.