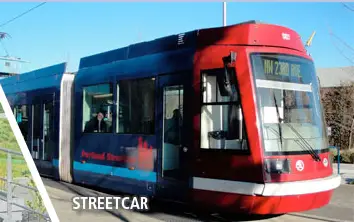 City of Santa Ana, Orange County's Downtown
OC Streetcar Project Takes Next Step
A Memorandum of Understanding was authorized between OCTA and the City of Santa Ana
The OC Streetcar project marked its latest milestone this week as the Orange County Transportation Authority Board of Directors agreed to a memorandum of understanding with the city of Santa Ana outlining the roles and responsibilities associated with the development, implementation, operations and maintenance of the project.
The OC Streetcar is planned to travel through the cities of Santa Ana and Garden Grove, intended to provide easy connections for people traveling from trains and buses to employment, retail and recreational areas.
The streetcar is planned to operate along a route just longer than 4 miles. The route will run from the Santa Ana train station, through Downtown Santa Ana and the Civic Center, along the Pacific Electric right of way, and connect to a new multimodal transit hub at Harbor Boulevard and Westminster Avenue in Garden Grove.
"This agreement is another big step toward the realization of Orange County's first modern streetcar," said Santa Ana Mayor and OCTA Director Miguel Pulido. "The streetcar will improve the way people move through the heart of our county and provide needed transportation alternatives for a modern work environment."
Highlights in the MOU include:
• OCTA is responsible for the design and construction of the project and the operations, maintenance and ownership of the streetcar system once operational.
• OCTA is responsible for securing and administering the project funding.
• OCTA is responsible for project procurements and right-of-way acquisition activities with the city's assistance.
• Both OCTA and the city of Santa Ana must develop and participate in a public outreach program for the project.
Up to seven streetcars are planned to run along the route, stopping at 12 stations. By 2035, the streetcar is expected to carry more than 6,000 riders a day. Initial estimates put the project cost at $250 million, with OCTA pursuing local, state and federal funding.
The streetcar is expected to move into the design phase later this year with construction planned to begin in 2017. On the current schedule, the streetcar would being running in 2019.
To read the full MOU, visit http://atb.octa.net/AgendaPDF/2729.pdf.
FOR MORE INFORMATION CONTACT OCTA:
Joel Zlotnik (714) 560-5713
Eric Carpenter (714) 560-5697