We are a bit behind so this week we are presenting two poems of the week by the Santa Ana Literary Association including "Shred the Gnar" by Josie Perez and "Transformed" by Kim Shuck, who is the 7th poet laureate of San Francisco, now emerita. Kim's poetry project with the San Francisco Public Library was the inspiration for the Santa Ana Literary Association's yearlong poetry spotlight, so they thought it would be fitting to invite her to share some words with our community. S.A.L.A.'s yearlong poetry project is about recognizing local talents, creating a sense of community through writing, and connecting with the larger poetic scene of California and beyond.
SHRED THE GNAR
By: Josie Perez
If it chooses to take you
Give it your all
Blissful moment
Unity with chaos
Unity with nature
If only for 5 seconds
In an instant, all direction is lost
Consumed by the void
Josie Perez has been a resident of Santa Ana for 25 years. She grew up surfing in Santa Cruz, and she works in childcare.
Transformed
By Kim Shuck
How many times have we woven
Rewoven the cocoon
Made ourselves
Different
Split the careful
Construction
Come loose
Shaken free
Transformed
By our own art?
How many times
Will we find
The light instructions
Recipes for a
Word for survival we've never shaped before?
We will wear the agates
Their inscriptions
Cracked from
Wildfire
Prayer fire
And who are we to decide where the altars
Are placed?
We will walk into the next moment
Shimmering with
Sacred water which we know is
All water
Will wash the dead
Shake ourselves
Start the weaving again
Call words into the chosen
Stairwells
Because we are the people of stairwells
Of mass transit
Of the echoes underground
We are the characters of myth
And even in the deep weaving
Never doubt it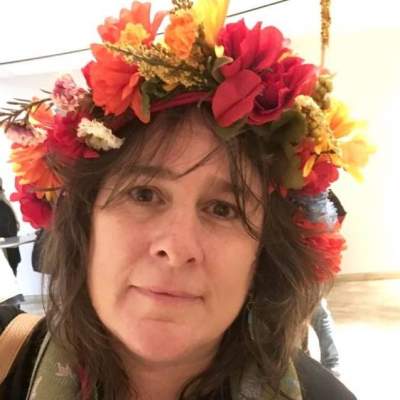 Kim Shuck is a flexible protein. Shuck was the 7th poet laureate of San Francisco, now emerita. Kim is solo author of seven books, two being seventh in their series and the coincidences are starting to be distracting. Kim's latest book is Deer Trails from the City Lights Foundation, and the latest chapbook is Whose Water? from Mammoth Publications.