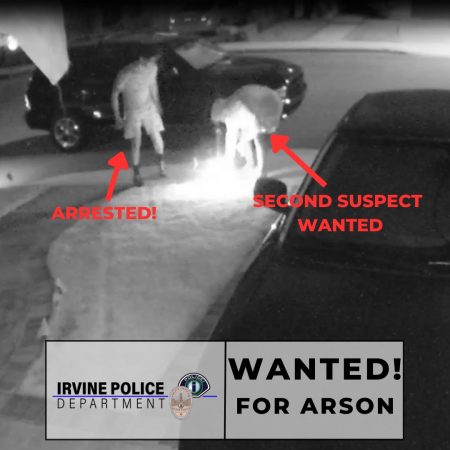 Hours after the Irvine Police Department posted last week's Wanted Wednesday asking for help locating an arson suspect who burned flags in a neighborhood, they got a tip from the community.
The Irvine Police Department's Arson Detective, assigned to the Orange County Fire Authority (OCFA), worked with his OCFA and UCI Police Department partners to identify and locate the suspect.
Today, Kiran Anil Flemish, 21, of Palo Alto, was arrested and booked on felony arson charges. (Editor's note – he appears to be a UCI student per his Instagram page).
The Irvine Police are still looking for the second man involved in this case. If you have information about him, please call 949-751-7118.
The Irvine Police Department thanks their community and public safety partners for their vital assistance on this case.