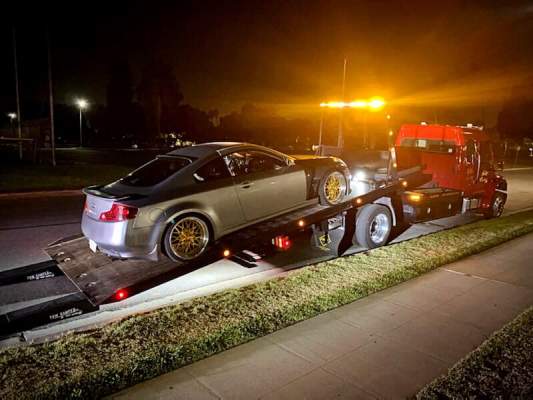 Over the weekend, Garden Grove Police Department Motor Unit and patrol officers tackled the issue of street racing, in addition to their ongoing DUI enforcement efforts.
‪Saturday evening started with street racers congregating at City Park (Euclid St and Main St). Motor officers saturated the area, wrote numerous citations and impounded a vehicle. Later that night, they received information of another gathering of approximately 400 cars and 1000 people at the corner of Euclid St and Katella Ave.‬
‪GGPD officers maintained a position on the Garden Grove side to monitor and ensure the racers did not enter their city. Approximately 10-15 racers decided to cross into Garden Grove and began doing donuts in the parking lot area. GGPD officers assisted outside agencies with dispersing the crowd, then arrested one subject and impounded his vehicle.‬
On Sunday, officers were dispatched to the parking lot at the corner of Euclid St. and Westminster Ave. regarding a large gathering of street racers. They were able to disperse the crowd of over 500 cars and 1,500 people, and issued numerous citations.
In total, GGPD had two DUI arrests, multiple street racing arrests, six impounded vehicles, and over 80 citations for vehicle and alcohol violations.