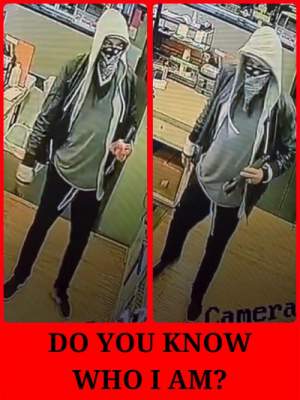 On January 9, 2021, at 12:55 PM, a male entered the 76 Gas Station (13960 Harbor Blvd.) in Garden Grove. He was initially in the candy aisle; but then walked behind the counter and brandished a knife as he approached the employee. The suspect took several packs of cigarettes and demanded the cash register be opened.
The employee was able to obtain a large metal pole instead. The two confronted each other, however, no physical altercation ensured. The suspect ultimately ran out of the store and was last seen northbound Harbor Blvd, in a white Toyota Corolla.
SUSPECT: male, White or Hispanic, in his 30's
CLOTHING: black leather-type jacket with a gray hood, gray shirt, black jeans, black and white tennis shoes, and black bandana over his face.
WEAPON: knife and a 3-cell flashlight
VEHICLE: white Toyota Corolla
Anyone with information on the incident, or this person's identity and whereabouts, is asked to call Det. Franks at 714-741-5836.