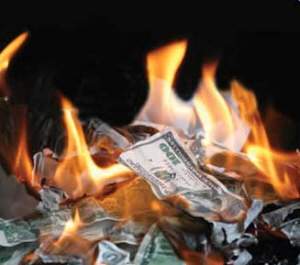 "The cost of the severance agreement with former Santa Ana City Manager Paul Walters will be "above $400,000," according to Mayor Pro Tem Sal Tinajero, as reported by the O.C. Register.
The L.A. Times reported that "Santa Ana city leaders have also agreed to name the city's police building in honor of Walters" – a fitting tribute to a public servant who toiled on our behalf for 42 years.
"Walters will be paid $264,999 plus health, vision and dental benefits for essentially acting as a law enforcement liaison for the city to a variety of regional boards and commissions. In addition, the city will purchase for Walters two years of U.S. Air Force retirement service credit under the state's public employees retirement system, known as CalPERS. It isn't yet known how much the purchase will cost the city," according to the Voice of OC.
How much will the new interim City Manager, Kevin O'Rourke, demand for his temporary service?  How much will the new national search for a City Manager cost our city?  And how much will the eventual new City Manager cost us?  I believe that in the end the Council's petty war on Mayor Miguel Pulido – which was the driving force behind their ouster of Walters, will end up costing Santa Ana's taxpayers over one million dollars.
That's right -over one million dollars that could have been spent on our library, parks, roads, or fighting crime, will be wasted by a Council that appears to be bereft of any ideas as to how to improve our city – and is instead waging an endless war on Pulido, who soundly thrashed Councilman David Benavides in last year's mayoral contest.
Tinajero told the L.A. Times last month that the council is "evolving."  I would say they are sinking fast and taking us with them.