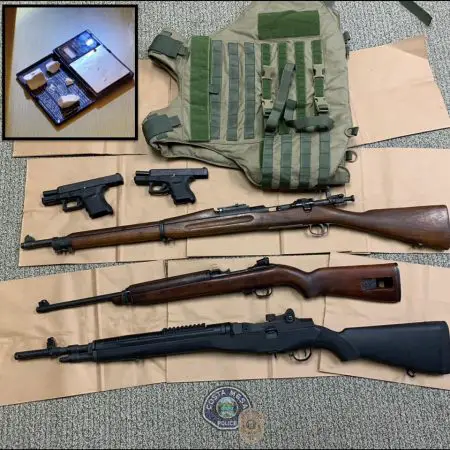 Last week, Costa Mesa police officers located an online marketplace advertisement for fentanyl being sold in Costa Mesa. Detectives responded to the advertisement and arranged to meet with the seller. The subject selling the deadly drug also indicated he also had access to guns.
CMPD detectives met with the subject at a motel in the Fullerton area and purchased two ounces of fentanyl. Shortly after the purchase, detectives arrested the man on felony possession for sale of narcotics. He was also found to be in possession of a large amount of cash and a room key to a motel room.
A record check of the arrestee revealed he is on Post Release Community Supervision (PRCS), probation with search and seizure terms, and had two outstanding warrants. Detectives confirmed the key was to a room at the motel where they met him and performed a search of the room.
During the search, detectives found additional fentanyl, 20 morphine pills, a digital scale, numerous firearms, a ballistic vest, over 100 rounds of ammunition, and cash. Detectives recovered approximately three pounds of fentanyl. A subsequent investigation into the firearms revealed they were from a storage unit in a neighboring city belonging to a victim who was unaware of the theft.