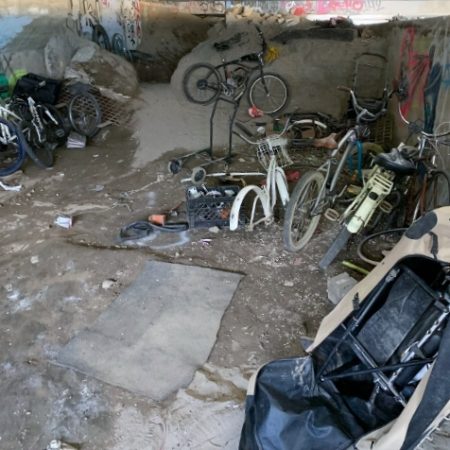 The Costa Mesa Community Policing Unit, who conducts enforcement activity citywide for all type of quality of life issues, assisted Caltrans in contacting three people experiencing homelessness underneath the 405 Freeway and the Santa Ana River on Thursday morning this week.
The officers explained to the transients that they had to vacate the area under the freeway as part of an eviction notice. The three were also offered help.
None of the bikes at the scene came back as stolen, which means they were not registered or reported stolen with a serial number as proof.
The three individuals did not claim ownership of any of the bikes. The Costa Mesa Police always recommend that bike owners register their bikes.
The officers will return next week to check underneath the freeway bridge with CHP, Caltrans, and Costa Mesa Outreach, who we work with to assist in getting resources to those who ask for it.