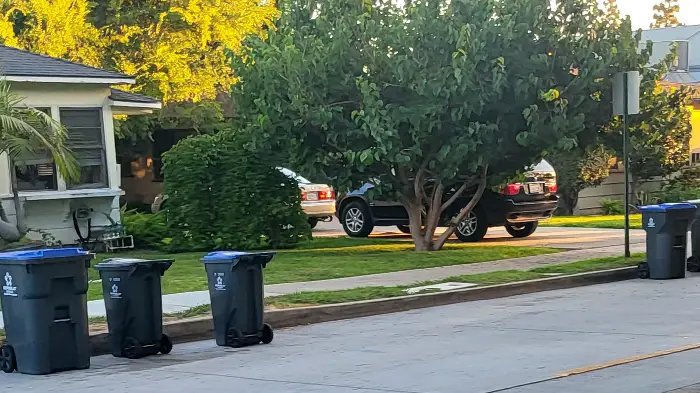 Santa Ana's City Hall has responded to our post about a resident being cited for having his trash cans out – although he said that they were still full as Republic Services had not picked them up. Here is the City's response:
On Monday, a City Sanitation Inspector responded to service requests (Illegal Dumping) and observed a large metal debris on the parkway at XXXX, and an empty/previously collected trash cart obstructing traffic in the center of the street (picture attached).

The Inspector informed the resident that placing bulky items on the parkway was not allowed and informed the resident of the bulky item service is available to them. We advised the resident that they could schedule a pick up for removal of such items. As well, the resident was informed that empty carts should be removed from the street to not obstruct vehicles or traffic.

A courtesy notice/warning notice was provided to ensure that the items in the parkway were addressed and that the empty trash cart was to be removed from the center of the street. No administrative citations were issued at this property.

Staff has been reminded and is not enforcing any trash cart removal violations Citywide during the refuse services transition and until further notice.
Frankly we don't believe the City. Here is a new comment from one of our readers – "Yes, we became victims of Republic Services and Sarmiento's incompetence. Our whole block got cited. Not sure why the person doing the citing didn't notice that the trash cans were FULL. Why are we being fined instead of Republic Services?"
Who will you vote for in the OC 2nd Supervisorial District?
We have seen such comments all over social media. It is obvious that residents ARE being cited for having full trash cans out. Perhaps our attention to this will shame the City into leaving the residents alone and focusing instead on why Republic Services is not doing their job!