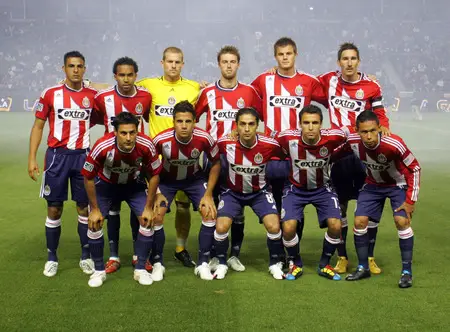 The City of Santa Ana has entered into negotiations with the Chivas USA soccer team, with a goal of relocating them to the Willowick Golf Course – with perhaps a temporary home at Eddie West Field.
According to a City of Santa Ana press release, "the potential move to Santa Ana would include their Major League team, reserve division, youth teams, and their non-profit foundation, which focuses on community service projects and programs."
"In these trying economic times, I am pleased that a Major League Soccer team would consider relocating to our city to bring much needed resources. Chivas' presence would create recreational amenities and programs for youth, bring economic development opportunities to our businesses, and revitalize areas within our city," stated Mayor Miguel Pulido.
When I first heard about this proposed deal I wrote the article below, which remains relevant to the conversation: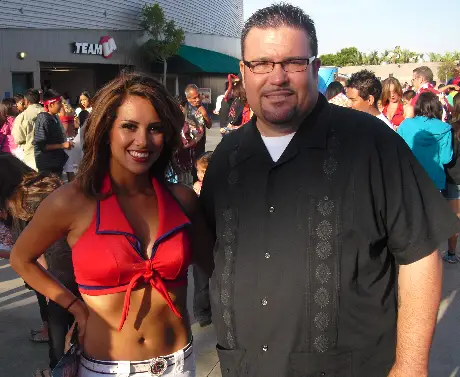 Santa Ana Planning Commissioner Sean Mill, with one of the Chivas Girls
The xenophobic NIMBYs that are opposing the proposed Chivas USA Soccer Stadium complex at the Willowick Golf Course are ranting and raving about how the team won't be supported by non-Latinos.  A closer look at this franchise reveals that Santa Ana's "Usual Suspects" are wrong again.
The team is actually pretty diverse.  Click here to review the roster.  You will quickly note that there are a lot of non-Latinos on the team.
And check out the Chivas Girls: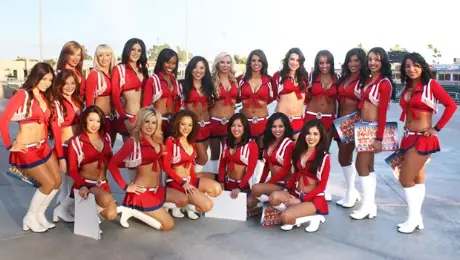 The NIMBYs are also saying that Santa Ana's residents won't be able to afford Chivas tickets.  Wrong again haters.
Chivas USA offers a Family Pack so the whole family can enjoy world class soccer in a world class facility.
Packages start from $59 and come with (4) four tickets PLUS your choice of (1) one parking pass or (4) four hot dogs! You also have the option to add-on to your pack.
The Chivas USA also offer a birthday pack, with prices as low as $15 per ticket!  And they offer a five game plan with tickets as low as $10 each.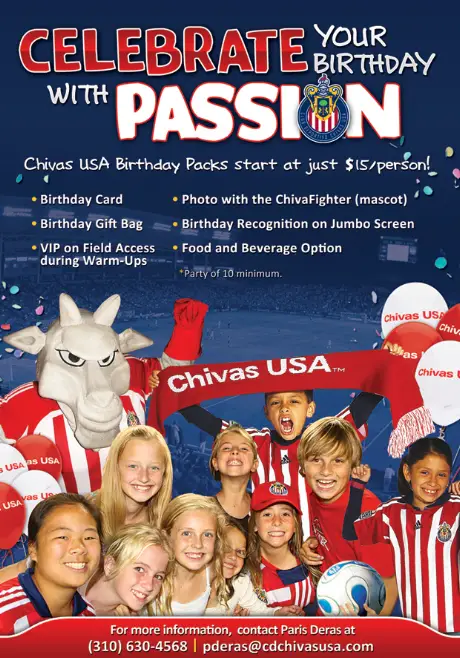 The fact is, the Chivas USA are a much better deal than playing golf at the Willowick Golf Course, which will set you back $25 plus another $24 for a golf cart – and if you play on the weekend you will have to pay a whopping $37 plus the cart fee!
As we noted in our previous article, if the deal goes through, the Chivas USA team will initially play at Santa Ana's Eddie West field, which will be greatly improved in the process.  Then they will move to the new facility at the Willowick Golf Course.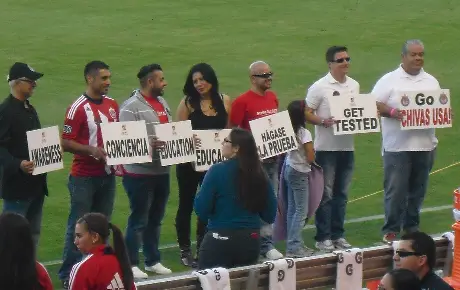 The Chivas USA recently highlighted AIDS awareness at one of their home games
Here is additional info about the Chivas USA:
Chivas USA is sister team to Club Deportivo Guadalajara, popularly known as Chivas, Mexico's most beloved soccer club. As the only wholly Mexican-owned team in major professional sports in the United States, Chivas USA brings a different approach to the American sports landscape, centered on five core values: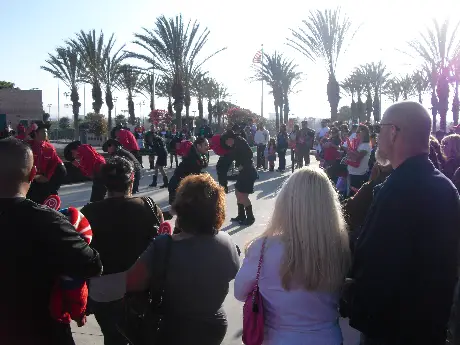 The Chivas USA games attract a very diverse crowd
1. PASSION: Chivas USA, its players, employees and fans, embody the true passion of soccer, the world's greatest sport.
Chivas USA's fans are among the most passionate and colorful not only in Major League Soccer but in all the soccer-loving world. Chivas supporters create a uniquely vibrant, family-friendly soccer atmosphere wherever the team plays.
2. CHIVAS HERITAGE: Chivas USA proudly celebrates its special ties to sister team Club Deportivo Guadalajara, Mexico's most popular soccer club.
Chivas USA is sister team to Club Deportivo Guadalajara, Mexico's most beloved soccer club. Chivas USA shares the Chivas commitment to promoting young talent and celebrating its Mexican soccer heritage. Chivas USA's uniform bears the same vertical red-and-white stripes of Club Deportivo Guadalajara, worn with blue shorts and blue socks.
3. COMPETITIVENESS: Chivas USA strives to win championships and succeed in all aspects of its business.
Since debuting as a Major League Soccer club in 2005, Chivas USA has made great strides, qualifying for the MLS Cup playoffs in 2006. The following seasons brought even more success, as Chivas USA ended the 2007 regular season with a 15-7-8 record, good for first place in the Western Conference, and qualified for the playoffs again in 2008 and 2009, having now earned a spot in the playoffs in four consecutive seasons.
Chivas USA players and coaches have earned several individual awards, including 2006 Gatorade Rookie of the Year Jonathan Bornstein of Los Alamitos, California, as well as Bob Bradley, who won 2006 MLS Coach of the Year honors before being tapped as the manager of the U.S. National Team. Chivas USA picked up a second straight MLS Coach of the Year award in 2007, as first-year manager Preki captured the honor. Goalkeeper Brad Guzan was named MLS Goalkeeper of the Year after a superb season in which he recorded 13 shutouts, and was on the MLS Best XI alongside Bornstein. In 2008, midfielder Sacha Kljestan was named to MLS Best XI, and was also honored as the U.S. Soccer Young Male Athlete of the Year. Goalkeeper Zach Thornton earned a trio of awards in 2009, as he was Goalkeeper of the Year, Comeback Player of the Year, and was included on the Best XI.
4. INSPIRATION: Chivas USA provides opportunities to young people on and off the playing field, helping them grow into the soccer stars and leaders of tomorrow.
Chivas USA is committed to nurturing the best soccer talent in Southern California through its groundbreaking youth development program. The Chivas USA Under-18 and Under-16 teams compete, free of cost to the players, in the prestigious U.S Soccer Development Academy, a nationwide youth development initiative, organized by the U.S. Soccer Federation, featuring 74 of the top youth teams in the country competing in a league system. The Under-15 team is also free of cost to players. These three teams have already helped to develop several players who have graduated from the club's youth ranks to its professional roster.
In addition, Chivas USA offers soccer instruction, for an annual fee, to players 5 to 15 years old at the Chivas USA Soccer Academies, which are run by a staff of professional coaches using the same training methods as Chivas USA's first team and sister team Club Deportivo Guadalajara. Registration for the Academy is held on an annual basis and the club's youth teams hold monthly tryouts in search of the best talent.
5. COMMUNITY: Chivas USA stands at the heart of the community, building alliances through soccer while reaching out to those in need.
Chivas USA's commitment to the community is seen through the team's numerous community programs – including fundraisers, blood drives, ticket donations, hospital visits and numerous grassroots appearances – spearheaded by the Fundación Chivas de Corazón USA, the team's nonprofit foundation.
In 2010, Chivas USA continued its work in a series of soccer clinics throughout Los Angeles County in a program entitled 'Chivas at the Park.' The team also brought its training sessions to the fans through its Practice in the Community series, in which the team holds practices at several locations throughout the Los Angeles area. Players, coaches, and executives have all been honored for their efforts to raise awareness for various causes, as well as using soccer to bring positive change to the community.