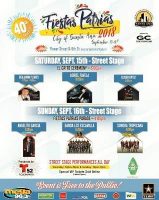 40th Annual Fiestas Patrias Festival and Parade this Weekend
The City of Santa Ana's 40th annual Fiestas Patrias Festival will take place on Saturday, September 15 and Sunday, September 16, 2018. The festivities begin at 12:00 p.m. each day on Flower Street between Santa Ana Blvd. and Civic Center Dr. This annual tradition celebrates Santa Ana's vibrant Mexican culture with A-list performers each night, delicious food, affordable shopping, interactive activities, and exciting carnival rides for children of all ages. The Festival will also include a beer garden open for adults only to enjoy cold, refreshing beverages as well as VIP ticket areas. 
The traditional El Grito Ceremony will take place on the Festival's main stage on Saturday, September 15 at 6:00pm. The Festival's main stage will host performances by Adriel Favela on Saturday night, Banda Los Escamilla and Sonora Tropicana on Sunday night. Various other artists and dance groups will perform throughout the day. Performances begin at 12:00pm on both days.
A major event highlight on Sunday is the City's annual Fiestas Patrias Parade from 4:00 p.m. to 6:00 p.m. Over 120 parade entries will be showcased this year. The Fiestas Patrias parade will march down Main Street towards the Downtown area and onto Santa Ana Boulevard. This year's parade theme is "Arte, Cultura y Tradicion or the "Art, Culture and Tradition". Telemundo Network's Celebrity Judge Dr. Ana Maria Polo will serve as this year's parade Grand Marshal.
Quick Schedule
Street Fair Hours – 2 Days
Saturday, September 15th
Festival | 12pm – 10pm
Carnival | 12pm – 12am
Street Stage Performances | 12pm – 10pm
El Grito Ceremony | 6pm
Street Stage Headliners | 8pm – 9pm
Sunday, September 16th
Carnival & Festival | 12pm – 10pm
Street Stage Performances | 12pm – 9pm
Fiestas Patrias Parade | 4pm
Street Stage Headliners | 6:30pm & 9pm
The 2018 Fiestas Patrias event is being produced by GC Event Productions in collaboration with the City of Santa Ana. For more information, please click here or contact the Special Events Office at (714) 571-4227.
 El 40o Festival Anual de Fiestas Patrias y Desfile Este Fin de Semana
SANTA ANA – La Ciudad de Santa Ana celebrara el 40o Festival Anual de Fiestas Patrias el sábado, 15 de septiembre y el Domingo 16 de septiembre del 2016. Las festividades darán inicio ambos días a las 12 del mediodía en la Calle Flower entre la Santa Ana Blvd. y Civic Center Dr. Esta tradición anual celebra la vibrante cultura mexicana en Santa Ana con entretenimiento incluyendo artistas de primer nivel cada noche, comida deliciosa, artesanías tradicionales, y actividades interactivas incluyendo grandes juegos mecánicos para niños de todas las edades. El Festival también incluirá un jardín de cerveza (abierto sólo para adultos) para disfrutar bebidas refrescantes y áreas VIP con boleto reservado.
La tradicional Ceremonia de El Grito de Independencia se llevará a cabo en el escenario principal del Festival el Sábado, 15 de septiembre comenzando a las 6:00pm. El escenario principal del Festival servirá como anfitrión de las presentaciones de Adriel Favela el Sábado por la noche, Banda Los Escamilla y Sonora Tropicana el Domingo por la noche. Muchos otros artistas y grupos de baile también se presentarán sobre el escenario durante todo el dia. Las presentaciones comenzaran a partir de las 12:00pm ambos días.
Un destacado acontecimiento que también se llevará a cabo el Domingo será el Desfile Fiestas Patrias entre las 4:00 p.m. y 6:00 p.m. Más de 120 unidades se presentarán este año. El desfile de Fiestas Patrias dará marcha por la Calle Main hacia la zona centro de la ciudad y el Boulevard Santa Ana. El tema del desfile este año es "Arte, Cultura y Tradición". La Dr. Ana Maria Polo, estrella de Telemundo servirá como Gran Mariscal del desfile de este año.
El Festival Fiestas Patrias es producido por GC Event Productions en colaboración con la Ciudad de Santa Ana. Para más información sobre el evento, visite https://www.gandcproductions.com/FiestasPatrias/ o llame a la oficina de Eventos Especiales al (714) 571-4227.