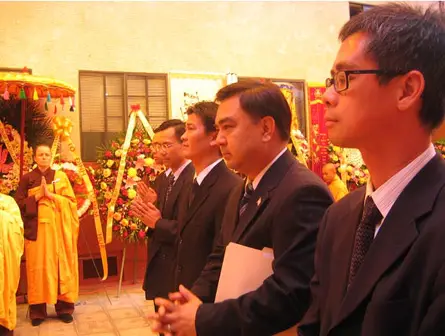 Tan Nguyen and Van Tran used to be homies!
Well, businessman and former U.S. Marine Quang Pham decided not to run this year for the 47th Congressional District, but guess who did turn in his papers today and qualified for the ballot?  None other than Tan Nguyen, the Republican who got him a world of hurt back in 2006, when he sent a letter to Latino voters asking them not to vote.  Nguyen lost to Loretta Sanchez, the incumbent, by a landslide.
When Nguyen first announced his interest in running again this year, few local pundits figured he was serious.  Many of us assumed that Van Tran put him up to this, in order to scare Pham out of the race. 
My pajaritos report that Tran and his acolytes, the Trannies, were completely shocked this afternoon when Nguyen showed up to the Voter Registrar's office, in Santa Ana, and turned in his papers.
Katherine Smith and Quang Pham at her home, Sunday March 7.  Copyright 2010. All rights reserved.
This is not good news for Tran.  He is already facing stiff competition from Anaheim Union High School District Trustee Katherine Smith, who recently met with Quang Pham.  Now Tran faces the dreaded vote split as well.  Nguyen may take away enough votes from Tran to hand the primary victory to Smith!
Do the numbers trend in Tran's favor?
Well, when you look at the voter demographics in the 47th Congressional District, the news isn't good for Tran at all.  Consider that 65% of the voters in the district are Latino.  Only 13.9% are Asian.  And 17.8% are white.  If Nguyen takes away enough votes from Tran, he will be toast!  Smith can win with just the white vote.  And Latinos will not vote for Tran. 
How about Smith?  In 2008 she was the top vote-getter in the Anaheim Union High School District Trustee election, according to Smart Voter.    She got over 42,000 votes without breaking a sweat. 
Even if Tran somehow wins the primary, he will be beat like a drum in the general.  In 2006, Tan Nguyen got 37% of the vote.  The rest went to Loretta Sanchez.  Tran is marginally more well known than Nguyen, but his negatives are sky high!
If Tran loses the primary to Smith, he will be done in politics…