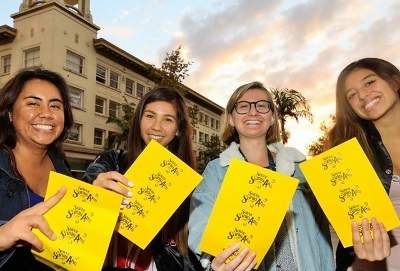 Savor Santa Ana is returning to Downtown Santa Ana on Saturday, October 12 from 5:30 pm-9:30 pm.
Savor Santa Ana is a fun night of friends and food. $10 gets you five tasting tickets at your choice of nearly 50 distinctive restaurants and artisanal food producers across Downtown Santa Ana!
Savor Santa Ana is a walkable food festival that gets you into downtown's restaurants: your tastings will occur at downtown restaurants that you will walk around to. Stroll the sidewalks and enjoy live music along the way, or hop on to our free historic trolley for a ride to your next destination.
Check out menu items and food pics on Downtown Inc.'s Facebook/Instagram and click here.
EVENT FEATURES
— Restaurant Tastings and East End Incubator Kitchen Tastings
— Old Fashioned Trolley
— Music, Exploring and Hanging Out!
— Cool craft beer and cocktails for the adults!
TICKETS
You get 5 tasting tickets for $10 and use your senses (or our handy map!) to guide yourself around DTSA. Order tickets in advance, or at the event at our Ticket Booths on the Spurgeon Promenade (4th and Spurgeon) or Artists' Village Promenade. Day-of tickets are cash only! Click here to buy the tickets.
LOCATION:
Downtown Santa Ana Historic District at N. Spurgeon and 4th St., Santa Ana
MORE INFO:
Website: https://www.eventbrite.com/e/savor-santa-ana-2019-tickets-71613356477
Email: info@downtown-inc.com
Phone: 213-268-4924
Contact: (714) 702-5097
Downtown Santa Ana is an independent and unexpected urban center for Orange County where visitors and locals enjoy the cutting edge of Orange County's emerging arts and farm-to-table restaurant, craft beer and cocktail scenes. Our mission is to facilitate the enhancement of downtown Santa Ana as a vibrant shopping, dining, entertainment, business and cultural destination for all.